A decade ago, the concept of "meeting" people over the Internet via live video was often dismissed due to infrastructural and technological limitations. The idea of a virtual meeting was primarily limited to text chats or audio calls. Even if solutions were available, they weren't user friendly or intuitive.
Today, using an integrated communication tool (e.g., WhatsApp, Telegram, etc.) is easy. However, there are only a few communication platform-as-a-service (CPaaS) solutions available, and even fewer are offering feature-rich platforms that specifically focus on inbound video calls and client engagement.
11Sight, a pioneer in this field, has emerged as a leader; a company that understands the value of video calls for revenue teams.
11Sight: Revolutionizing Video Communications
Founded by Aleks Gollu and Farokh Eskafi in 2016, 11Sight is a vibrant startup based in the San Francisco Bay Area. The startup offers a cutting-edge inbound video call and customer engagement platform for revenue teams.
Central to 11Sight's product is the concept of an 'e-Line,' a unique URL dedicated to each user or team. These e-Lines can be embedded in various online channels, including emails, LinkedIn posts, or Facebook comments, empowering prospective customers to initiate an inbound video call with a single click. The platform's user-friendly and accessible nature demands no downloads, sign-ins, or appointments. This 'one-click' approach simplifies customer-business interactions and reduces the on-average "five-day" wait time to meet a qualified prospect.
Simply put, 11Sight e-Line links are digital home addresses where prospects and customers can be engaged through on-demand meetings. The technology only requires a working broadband internet connection and works perfectly on web browsers.
The 14-day free trial gives you enough time to decide if 11Sight is perfect for your team or not. Let's discover how e-Lines work on 11-Sight.
Setting Up e-Lines with 11Sight
Using an e-Line, your team can receive video or audio calls from any internet channel via a unique and dedicated URL (for example, https://vcall.link/yourname). Your specific e-Line web address is much like a phone number. Anyone with the e-Line link can ring your PC, laptop, or mobile device whenever by typing it into a browser or clicking on the link from any channel. It's the quickest and easiest way to connect and meet with your qualified prospects.
e-Lines from 11Sight present a revolutionary way of communication for businesses. They serve as a digital bridge, connecting businesses with clients through real-time, one-click video interactions. This adds a level of immediacy, relevance and personal touch to online interactions.
How to Find Your e-Line Link
To find your e-Line on 11Sight, you need to log in (or sign up). Once you are in, you will see the Home Screen of your 11Sight Dashboard. Click on the Profile button that has your or your company's name. It's next to the "Available" toggle button.
A menu will appear. Click on the "Profile" button.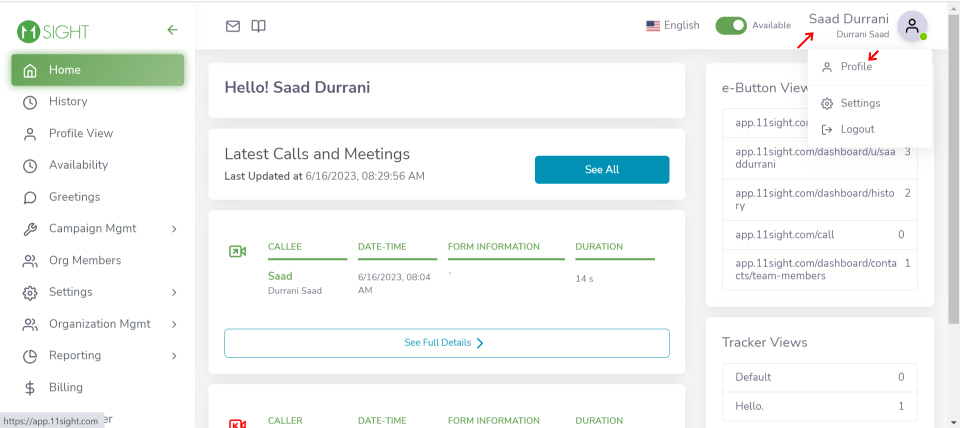 You will now see a screen with your Profile. Click on the "Share Profile" button. A pop-up will appear. Click the "Copy" button in the row where it says e-Line link.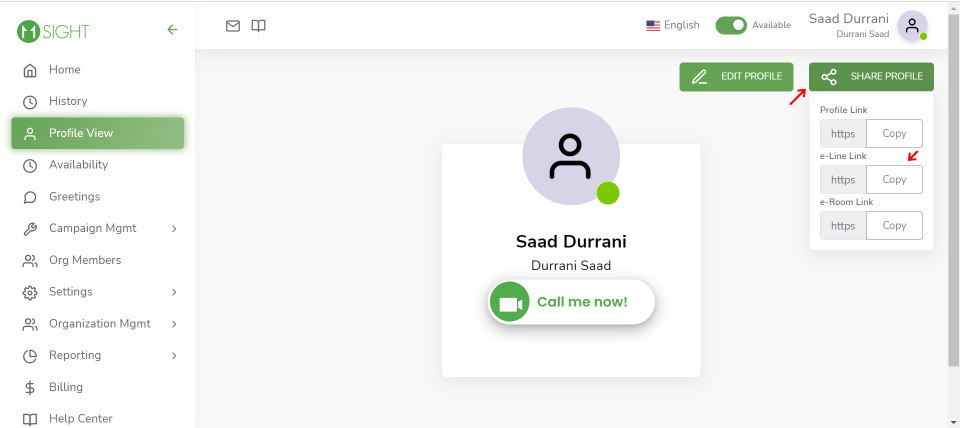 Congratulations! You have now found your e-Line link.
Receiving & Answering Calls
The best thing about 11Sight is that it works with anything that has a web browser like Chrome, Safari, etc. 11Sight also has mobile apps for Android and iOS devices. You must be logged in to receive and answer calls on the mobile apps.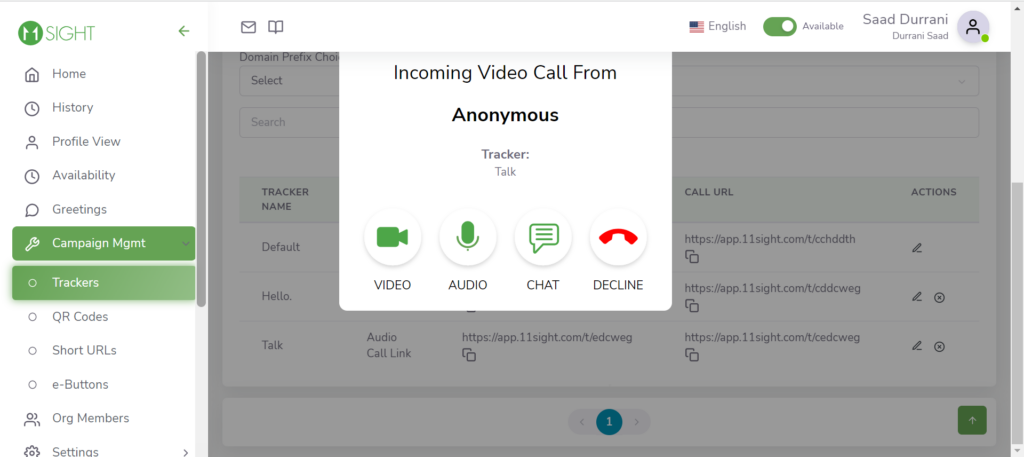 The incoming call pop-up gives you four options: Video, Audio, Chat, and Decline. You can pick a suitable one according to your needs. If you decline, the caller is notified with an auto-responder asking for a message.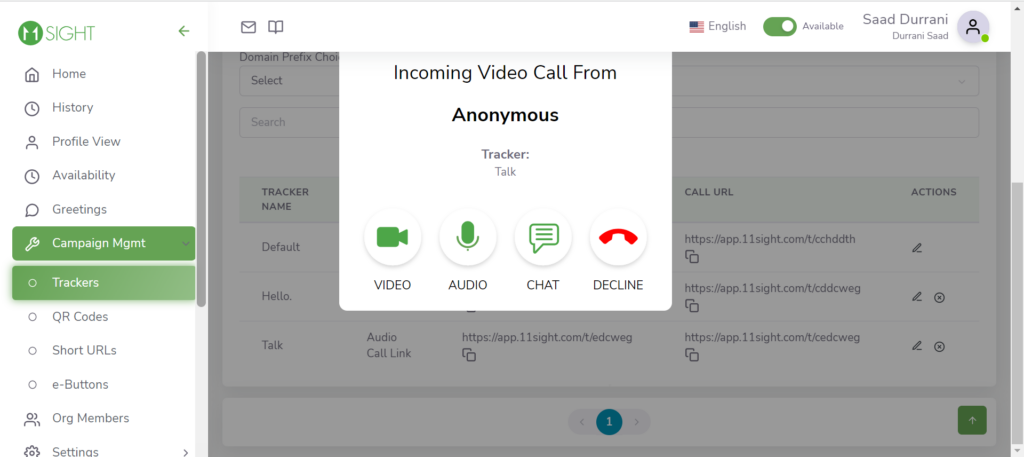 You can customize your e-Line for better productivity and control. Here are some options that you should explore.
Basic e-Line Configurations
To customize the functionality of your e-Line in 11Sight, follow these steps:
Navigate to the 11Sight website and log in.

On the side menu, navigate to

Settings > e-Line Configuration

.

In the

Button Configuration

section, you can determine how you'd like your user's buttons to function.

Enable the

"Allow one call at a time"

option if you prefer not to receive calls while engaged in another.

If you wish to use 11Sight solely for texting, select

"Only Support Chat Calls."

To allow callers to leave a message when you're unavailable, uncheck

"Disable Leave a Message Option When Video Is Not Available."

Customize your video calls with a Virtual Background under

"Select vCall display Background."
Another great feature of 11-Sight's e-Line is that it can track different campaigns with distinct URLs. These are called "Trackers." To create trackers, head to Campaign Management > Trackers on the side menu. Hit the "Create" button to set up a tracker easily.
Embedding e-Buttons For Greater Reach
You can add a widget to your website to give your callers the option to choose between different call types and actions. 11Sight's customizable e-Buttons can display contact forms, scheduling links and all call types included in 11Sight.
Additional Features and Integrations
In the "Integrations" section, you can enable the HubSpot integration to log calls and access contact information from within the call. You can also integrate or disconnect the Webex integration.
In the "In-Call Functionality" section, you can turn off some in-call functions, set up Call Instructions visible only to you in the call's chat, and choose to record all calls through your e-Line under the "Automatic Call Recording" section.
In the "Forms" section, 11Sight offers three forms to use before and after your calls:
Contact Information Form:

This form collects the caller's contact details before a call.

Call Review Form:

This form allows you to take notes about the call.

Call Satisfaction Survey:

This form lets callers evaluate the service they received after a call.
These forms can be edited in JSON format.
Benefits and Versatility of e-Lines
The e-Line feature offers an array of benefits for businesses. It enables instant communication without needing an application download or a pre-arranged appointment, making the customer interaction process more efficient and seamless. This can significantly improve customer satisfaction and engagement levels, build customer loyalty, and potentially increase sales.
Moreover, e-Lines support a variety of functionalities. They can record calls, integrate with CRM tools such as HubSpot, and customize call settings. They can facilitate texting or video calls, allow only one call at a time, and provide an option for customers to leave a message when the video is unavailable. E-Lines' adaptability makes them a versatile tool for businesses of all sizes and sectors.
Using e-Lines to Enhance Business Performance
e-Lines also offer pre and post-call forms, providing a helpful tool for capturing customer information and feedback. This valuable data can enhance a company's understanding of its customers, leading to tailored services and improved overall business performance. In summary, e-Lines from 11Sight offer businesses an innovative, flexible, and effective way to connect and engage with customers. They enhance the customer experience and drive business growth.
11Sight's e-Rooms are a browser-based meeting solution that lets teams meet online quickly. There are a few different types of e-rooms:
Temporary Meeting Rooms:

These can be 11Sight meetings or Webex meetings. You can schedule these meetings for a specific time, date, and duration. After scheduling, a .ICS file can be downloaded to add the meeting to your calendar.

Virtual Office:

This is a private meeting room where only you have "the key" and can open it for guests to join. This type of room can accommodate up to 20 people.

Conference Room:

This is a shared virtual meeting space with other users in the organization. Only organization members have access to "the key", which allows guests to join. This room has a limit of 20 participants.
The e-Rooms feature has various functions, including dedicated e-Room links, virtual backgrounds, screen sharing, file sharing, private messaging, password protection, YouTube streaming, the ability to watch videos together, an audio-only mode for low bandwidth use, the option to call teammates to invite them into meetings, the ability to embed meetings on your website, access to meeting history and files, meeting recording and transcription, and a knocking feature.
Once inside the e-room, you will see a control bar at the bottom of your screen. According to their support documentation, each button has a different function.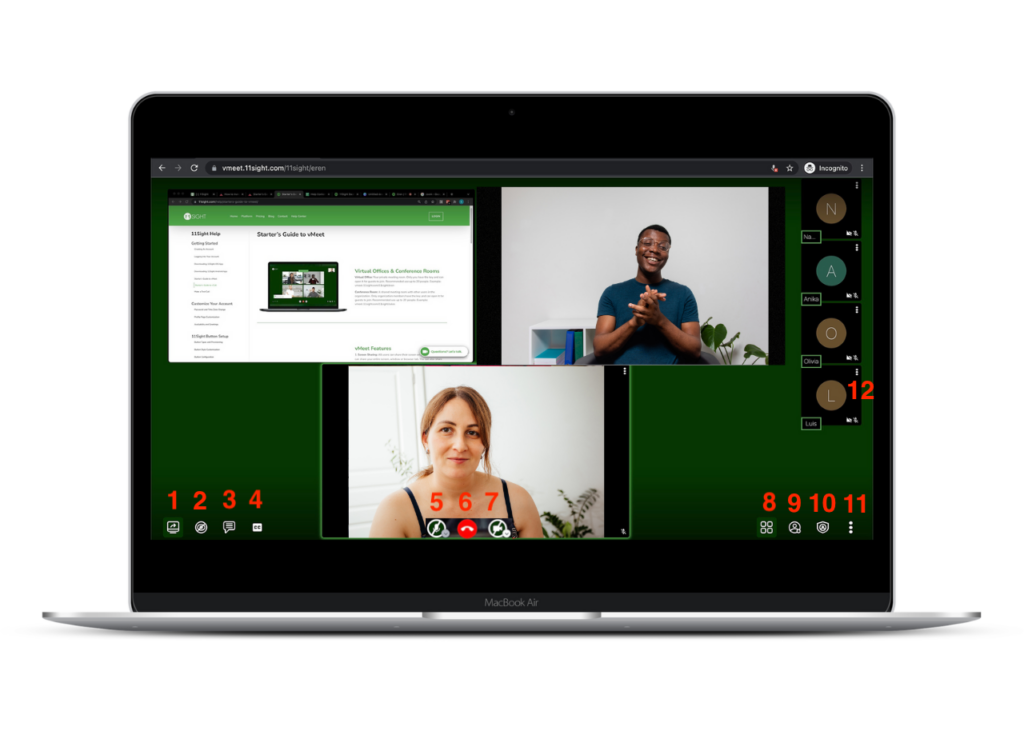 Screen Sharing:

Using their browser, all users can share their screens. Your entire browser tab, window, or screen can be shared. Audio can also be shared.

Audio Only Mode:

You will only send and receive audio when toggled. Others won't see your video. This is useful when you are on a low-bandwidth network.

Open/Close Chat:

You can chat with others, share files, and private messages by hovering over the three dots on a participant's picture and clicking "Send private message."

Start/Stop Transcriptions:

You can enable Transcriptions and Translations. Transcriptions will appear at the bottom of the meeting page and in the chat.

Mute/Unmute:

You can enable or disable the voice of your audio devices.

Hang Up:

Click on this button to leave the meeting.

Start/Stop Camera:

You can enable or disable video streams by clicking on the down arrow on this icon.

Toggle tile view:

You can switch between speaker view or tile view by clicking on this icon.

Invite People:

Call your organization members to invite them to a meeting. Copy the meeting URL, send an invite over email, or embed the meeting on a website.

Security options:

You can enable the lobby, which lets you protect your meeting by only allowing people to enter after formal approval by a moderator. You can also password-protect the meeting. Passwords can be changed or removed at any time.

Additional Actions:

You can access a menu of additional actions by clicking on the three dots in the bottom right corner. When clicked, it shows an array of control options where you can mute everyone, select background, start recording, share a YouTube video, start live stream, enter Picture-in-Picture, view full screen, manage video quality, and handle settings.

 Participant Options:

You can access a menu of participant-specific options by clicking on the three dots on the participant's picture. Using these controls, a moderator can mute the participant (or everyone else depending what's required), grant moderator access, send private messages, adjust the volume, or remove the participant.
How is 11Sight Different From Zoom or Google Meet?
11Sight is a unique platform offering distinct features compared to more widely recognized tools such as Zoom and Google Meet.
One of the main distinctions of 11Sight is its focus on optimizing the customer journey from the first engagement. The platform is designed to expedite the time to the first meeting, reducing it from an average of 5 days to just 15 minutes. This rapid connection capability can be a game-changer in many businesses, as the initial meeting with a prospect is critical to the success of a deal. Businesses on GetApp have reported converting three times more qualified leads and closing 30% more deals when they deployed 11Sight for their revenue teams.
Another notable feature of 11Sight is its "one-click" connectivity. Users have praised the platform for facilitating instant meetings with a simple click of a button, eliminating the need to set up meetings in advance. This feature is handy for businesses that must be agile and responsive to their customers' needs.
Comparatively, Zoom is primarily a video conferencing tool known for its high-quality video and audio, screen-sharing capabilities, and capacity to host large-scale meetings and webinars. Google Meet, a feature of Google Workspace, also offers video conferencing features with seamless integration with other Google services. 
While 11Sight, Zoom, and Google Meet share similar features like video conferencing and collaboration tools, the key differences lie in their specific use cases, target audiences, and additional features they offer. 
11Sight is a one-click inbound communication platform, unlike its popular competitors. It delivers customer engagement from the get-go.
11Sight's subscription starts from $30 per user per month for the Starter package. Alternatively, you can go for the Premium package, which costs $50 per user per month. 11Sight has a free 14-day free trial which requires a credit card. However, you can cancel anytime you like. If you subscribe to their annual plans, you can save 20% off of the plan of your choice. For any starting small business, the Starter package is ample enough. However, the Premium package is a better deal for any business that aims to work on closing their deals quicker and wants to integrate inbound calls to their CRM.
Our friends at 11Sight have a generous offer for all Devrims users and visitors. Just use code DEVRIMS20 to avail 20% OFF for 4 Months. Hurry up! Enjoy the savings quickly, as this offer is valid till stock lasts.