Alex Berman is an entrepreneur, bestselling author, and digital marketing expert specializing in B2B lead generation and cold emailing. He is the founder and CEO of a cold emailing startup, Omni.us. According to his profile on Entrepreneur, Berman is responsible for generating over $6.5 million in B2B sales and over $35 million in leads for his clients. He has also built a 7-figure agency, exited 5 SaaS companies, authored a bestselling cold email book, and created a YouTube channel with 100K+ subscribers.
This interview is filled with interesting tidbits based on his experiences in the SaaS industry.
Devrims: Tell us about your background and how your entrepreneurial journey started?
Alex: My entrepreneurial journey began with various roles that honed my resilience and drive – from selling Pokemon cards in middle school, working as a delivery driver for sandwiches, to being a cold caller. Diversifying my experience with ventures into stand-up comedy, martial arts, and music also contributed to my journey. But the pivotal point was my role as a junior salesperson at an NYC-based company, which unveiled the potential of cold emailing.
Devrims: How much impact do you think cold emailing has in today's marketing?
Alex: Cold emailing in today's marketing is like an unsung hero. Many see it as a shot in the dark, but with the right approach and personalization, it can connect you with potential clients like no other tool can. It's a fine art and a science.
Devrims: What main strategy do you have that helps you target your client?
Alex: The foundation of my strategy is to offer value upfront. Whether it's through high-quality content or personalized cold emails, I aim to establish a connection with potential clients before pitching anything. It's about them, not me.
Devrims:  Share something we don't know about your area of expertise and in your opinion what should be the best practice be?
Alex: For effective cold emailing, I always recommend the 3Cs method: Compliment, Case Study, and Call to Action. It's about making a genuine compliment, showcasing your expertise via a case study, and then leading them towards an action step. To delve deeper into this, my book The Cold Email Manifesto, available for just 99 cents on Amazon, is a comprehensive guide.
Devrims: Tell us a little about your SaaS journey?
Alex: Among the lessons I learned from my SaaS journey, a few stand out: One, success and failure are two sides of the same coin. Both bring invaluable lessons. Two, it's essential to stay adaptable and resilient. The tech industry is ever-changing, and so should we. And three, never underestimate the power of a good team. A collaborative, skilled team can often make the difference between success and failure.
Product Spotlight: Create your web app now on Laravel Hosting from Devrims.
Devrims: What are your thoughts about AI capturing the market?
Alex: AI has immense potential and can revolutionize business operations. It's not a threat, but a powerful tool. How we harness its potential is what matters. As they say, with great power comes great responsibility.
Devrims: How did you start Omni and how does it differentiate from the competition?
Alex: Omni was born from a simple frustration: lead generation was far too cumbersome for B2B businesses. So, we built a tool to simplify it. Omni has its focus on cold email outreach and sales automation. Its features provide a comprehensive solution for B2B companies to optimize their outbound email campaigns effectively.
Devrims: What inspires you to grow more and what do you like to do in your free time?
Alex: The joy of learning and the thrill of tackling new challenges fuel my growth. And there's nothing quite like losing myself in a good book during my free time. It's a refreshing retreat that broadens my perspectives and spurs new ideas.
Devrims: How is your Youtube journey going and how was the journey to 100K?
Alex: My YouTube journey has been a tale of perseverance and community-building. It wasn't an overnight success but a gradual climb. Each subscriber was hard-earned through consistent sharing of valuable content. The journey to the 100k mark was a marathon of creating content that resonates with viewers, engaging with them, and learning from the feedback they provided. And today, when I look at the community we've built, I can say without a doubt that the journey was well worth it.
Devrims: Can we see pictures of your workspace?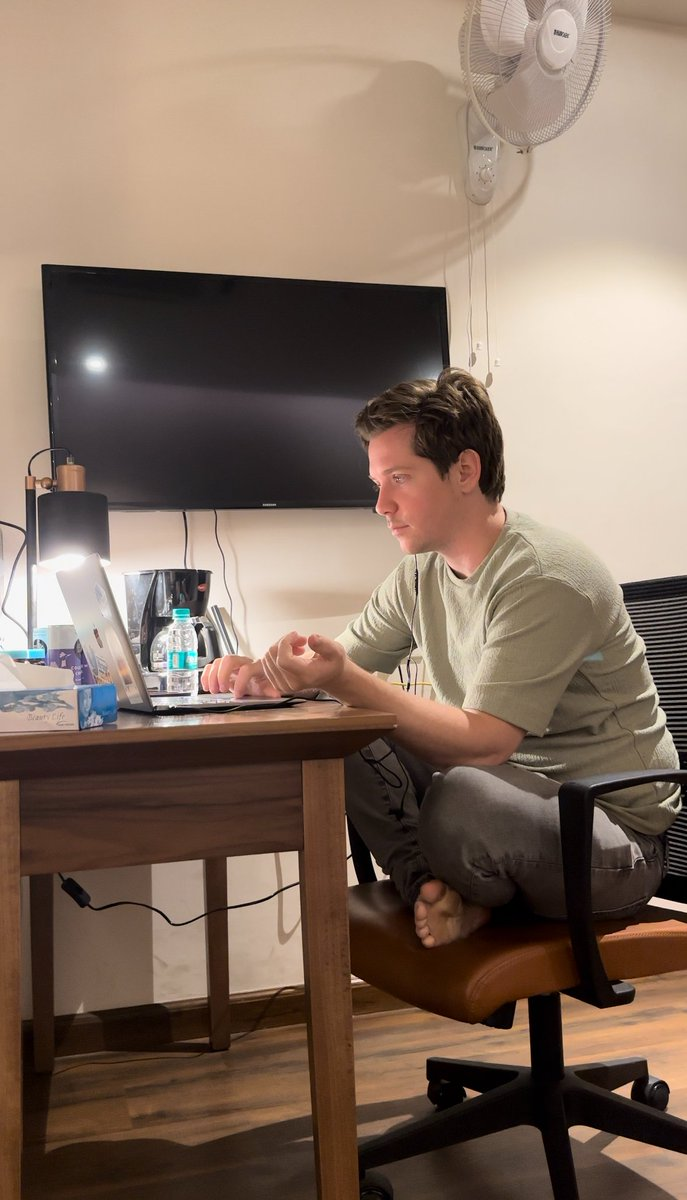 Devrims: What piece of advice would you give to a small agency who wants to improve and what mistakes should they avoid?
Alex: My advice to small agencies is simple: focus on your niche, consistently deliver value, and don't shy away from investing in marketing. But, avoid the pitfall of being a jack-of-all-trades and master of none. Specialize, don't generalize.
Devrims: Let's end this interview with some rapid fire questions:
| | |
| --- | --- |
| Devrims | Alex |
| Cars or Motorbikes | Cars |
| Coffee or Tea | Coffee |
| Instagram or TikTok | Instagram |