Sometimes, life takes you on a journey you may never have planned. This week for Devrims TechTalk, we have Álvaro Góis dos Santos.
Despite his initial studies in Psychology, Álvaro embarked on a career path that led him to the digital and technical industry. As the manager of websites and other executive tasks at Empower Up, a Lisbon-based training company, he witnessed firsthand the transformative power of WordPress and other open-source platforms in establishing a web presence for small businesses without requiring excessive resources.
With over a decade of experience organizing WordCamps and actively contributing to the WordPress community, Álvaro understands the challenges and rewards of community building. He highlights the significance of these events, such as the recent WCEU2023, in bringing together professionals who have collaborated online and providing opportunities for personal growth.
Devrims: Let's start with a small introduction about you and your life. And, how's everything going these days?
Álvaro: My name is Álvaro, I'm 50 years old, and I live in Portugal in a small city in the center of the country. I live with my wife and our two kids, 13 and 17. I work with a Lisbon training company called Empower Up, where I'm in charge of managing the websites, beside other executive tasks.
Devrims: You completed your graduation in Psychology. However, your career path is different. What's the cool story behind that?
Álvaro: Even before entering university, I was already working in design at a newspaper in Lisbon where I am from. So, I was working and studying at the same time, mostly in desktop publishing with magazines and books. When I graduated in Psychology, I had the chance to work with a Psychology publisher called Climepsi, and that was my way of merging both professional experience and academic knowledge. It was sort of a pioneering enterprise, as Psychology books locally published were rare. I did some editing and translation work also. After that I worked with some other publishers. Then, I created my own micro-publishing house, and finally started to work with the web.
Devrims: You have been with Empower for more than 10 years. How do you think these platforms contribute in the digital and technical industry?
Álvaro: Well, Empower is a rather analogic organization. We do have an important online presence, and after COVID we started to do a lot more online training. But the core of the business was always face-to-face training.
As for the way WordPress helped our business, first, I got this job because I had already started publishing online with WordPress, and the company understood that if it wanted to grow, it had to improve its online presence. WordPress, along with other open-source platforms, truly helped small companies establish a web presence without going bankrupt or needing excessively specialized employees.
Devrims: You have been a part of the WordPress Community and organized WordCamps for more than a decade in different parts of Europe. How tough is community building and how did you manage all of this for so long?
Álvaro: The WordPress community was (and still is) decisive for my career in the sense that I began as a complete novice. When I first started experimenting with WordPress, I wasn't aware of the vast reach and size of the community. It was a pleasant surprise when I realized the potential that community contributions offered. I had the opportunity to meet extraordinary people who selflessly dedicated themselves to fostering the growth of the community and WordPress. Many of them have become my friends, and their friendship is truly invaluable.
To be a part of this community gives you a sense of belonging, and also a purpose beyond professional interests. Perhaps that's why I've been doing it for so long: I enjoy it!
However, I must say that growing the community is not an easy task, especially in today's landscape where competition between platforms, networks, and apps is intense. It has become increasingly challenging to capture a significant amount of attention and dedication. This is perhaps the biggest challenge we face moving forward.
Devrims: You attended the WCEU2023. How important do you think these events are for the community?
Álvaro: Events like WCEU2023 are incredibly important because many of us have been working remotely for extended periods of time, knowing each other only through a keyboard and a screen. WordCamps provide us with the opportunity to meet people with whom we have interacted and collaborated online for a significant period. Additionally, these events allow us to connect with new individuals, explore different approaches to work, and face fresh challenges. All of these experiences contribute to our personal growth.
Plus it's pretty fun most of the time, because the WordPress Community has that quality.
Devrims: How was your experience with the WP Stress training sessions?
Álvaro: I would say it's a project waiting to grow. Unfortunately my day job didn't leave me enough time to invest more efforts in WordPress specific training sessions for WPStress. But, I continue to think that it is a necessity, and I still feel what the difficulties of an initiate are, and I think that this attracts me to do training sessions and workshops.
Devrims: WordPress turned 20 recently, how are you feeling about it and are your expectations in the future?
Álvaro: WordPress turned 20, and I turned 50! This is a tough question, indeed. If you had asked me 15 years ago, when I first started with WordPress, I couldn't have imagined that I would still be working with it many years later. I was a paper-based, analogic designer and editor. I had to reinvent myself to work with the web. WordPress was the enabler for that change.
As I said before, competition between platforms, and especially apps, is so great that it's hard to predict how sites will capture attention in the coming years. That's why I see this as our biggest challenge.
Devrims: What do you think about managed WordPress hosting? And for you, what are the important elements in a Managed WordPress Hosting?
Álvaro: Starting with the second question, I would say that what I check the most in a hosting service is its high-quality support. A service that works on customer care is always a step ahead. As for what I think is most important, in addition to support, is flexibility and keeping up with developments in technology. And, of course, having a relevant connection with the WordPress Community.
Devrims: How do you manage your work-life balance? What do you prefer to do in your free time?
Álvaro: I'm not probably a good example, even though I have some after-work activities. The one that I love the most these days is running. I live in a place where I can go outside and do some training. In the last six or seven years I gained an interest in running, started training regularly with other athletes, trained and ran a marathon, several half marathons, and other road races. This goes against the sedentary lifestyle of working at the computer for so many hours a day. I take advantage of my holidays to go to the beach (absolutely mandatory for me) and enjoy the south of my country. Whenever I have the opportunity–less than I should, I confess–I try to travel abroad.
Devrims: Share with us some pictures of your workspace?
Álvaro: Unfortunately, I'm too disorganized in my space to share a picture. But, I can share some images of my work with the Community.
In 2019 I was Lead Organiser of WordCamp Lisboa, and I did a homage (and a book) for the Portuguese WordPress Community: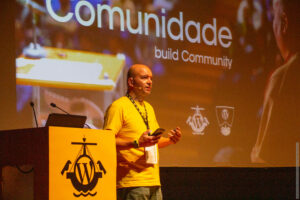 In 2023, I was on the organizing team yet again: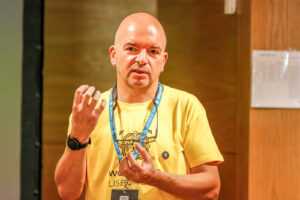 As I was in 2017 (and every WordCamp in Portugal since 2011):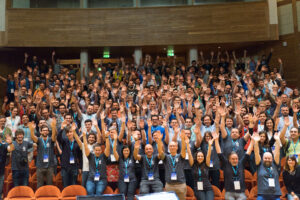 Helping in workshops, for example: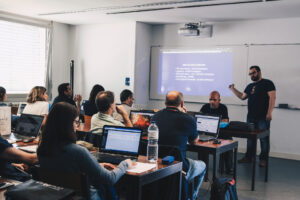 Devrims: The business space has become immensely challenging these days. What advice would you give to someone that has just started?
Álvaro: When people come to your business, what they really want is a solution. Sometimes it may not even be the perfect solution, but if it solves the problem and speaks the same language, it becomes familiar.

Devrims: Name two individuals that have inspired you throughout your journey?
Álvaro: I can never miss Zé Fontaínhas, who was the driving force behind the Portuguese WordPress Community (and some other local communities) and who welcomed me into it in a friendly way. Without him, my WordPress journey would have been different, for sure. I think the WordPress Community owes a lot to Zé for what it has achieved.
The second person inspires me as much as it makes me proud. Pedro Mendonça started in the Portuguese WordPress Community, like me, through translations. He proved to be a careful person, with an extreme dedication to our language, the quality of the translations and their importance for the users. Then he grew up and started contributing to various projects around GlotPress (WordPress translation platform) and beyond. It is extraordinary what he has achieved.
[The interview was edited for clarity.]