If someone's born with an entrepreneurial spirit, then you will always remain unstoppable. That's Andrea Zollner for you in a sentence. Almost two months ago, Andrea left the calculated comfort of her 9-to-5 job to start her own thing. It's called Keiko Furoshiki, a brand of reusable fabric gift wraps.
In this interview, you will learn more about Andrea and her life. She also gives a few excellent tips for those who wish to lead a life of a digital nomad.
Devrims: Tell us a little bit about yourself. What's going on currently in your life?
Andrea: I'm a Canadian marketer and entrepreneur, and have been working in tech for about 10 years. After serving as VP of Marketing at a cloud hosting company for the past two years, I'm currently taking some time to launch and grow a few of my own passion projects: Keiko Furoshiki, a brand of reusable fabric gift wrap and Function House, makers of stylish cannabis accessories. My background is actually in journalism, which I turned into a career as a marketer in tech – specifically the web hosting industry. I'm currently based in Montreal, Canada but have worked remotely for a decade so I'm on the road about half of the year.
Devrims: You worked on WordPress related projects for nearly a decade. How did you jump into the tech industry?
Andrea: I was a journalism student at a time when the industry was going through a massive transformation to digital-only, so I knew the future was in information technology. I'd always been a bit of a computer nerd, building my own sites and web-based applications, but my coding skills were limited and that wasn't actually what I liked to do the most. My strengths were in communications, information architecture, and copywriting. I asked around and found out about a Business Development internship at Automattic and quit my job as a Communications Analyst at an insurance company to take this three-month contract. From the outside, it looked like a step down, but I knew it would be worth it. I learned about the inner workings of the WordPress industry, how business is done in a distributed environment, and was flown to meetups and WordCamps to network. That experience is really what launched my career in tech.
Devrims: You have been to WordCamps. How insightful are these kinds of events in the WordPress community?
Andrea: I'm a big fan of WordCamps for newcomers to the WordPress industry. There is no faster, more exciting way to connect with the makers behind the WordPress open source project itself, the brands influencing the market dynamics, and to hear from developers about the latest trends and technologies. You can tap into these conversations online as well, but WordCamps offer opportunities to network that can lead to business deals, job offers, and collaborations you wouldn't expect!
Devrims: Let's do a quick Rapid Fire round:
| | |
| --- | --- |
| Devrims | Andrea |
| Blogging or Podcasting | I love both but if I had to choose: blogging. I love to write and I'd say I read more articles in a day than consume podcasts. |
| Tea or Coffee | Coffee. I've tried to be a tea person. It never sticks. |
| WordPress or Shopify | I currently use both! I'm actually thinking of writing a piece about this and why I use a different platform for each of my businesses. That being said, my heart is with WordPress because of its mission and flexibility |
| WFH or On-site | WFH (or anywhere!). I miss some of the elements of working with a team in person, but 90% of the time, I love the freedom of remote work |
Devrims: Hosting has a prominent influence on the performance of your website. For you what are the key elements that matter in a good Managed WordPress hosting?
Andrea: To me, uptime and speed are everything. Like many entrepreneurs, I just don't have time to deal with my sites going down and don't want to spend extra money hiring someone to troubleshoot. When it comes to speed, website owners have a responsibility to optimize their sites and keep a lean tech stack, but there's only so much you can do about the hosting infrastructure itself, so choosing a good host gives you a solid foundation to build upon.
Devrims: You have recently started your own venture. Where did the idea come from? 
Andrea: Thank you! I've always known I wanted to be an entrepreneur. My first business was selling homemade cookies to college students at the age of 10! Even when I had full-time jobs, I ran a monetized travel blog on the side, consulted, and always had an idea cooking. When I met my husband, he was planning to start his company Function House, and later, I recruited him and his mother to start Keiko Furoshiki with me. Between our two businesses, and my travel blog/YouTube channel The Capsule Suitcase, I had this feeling that if I didn't give myself permission to work on them full-time for at least six months, they'd never grow. So, that's what I'm doing right now and we'll see how it goes!
Devrims: Can we have a look at your workstation?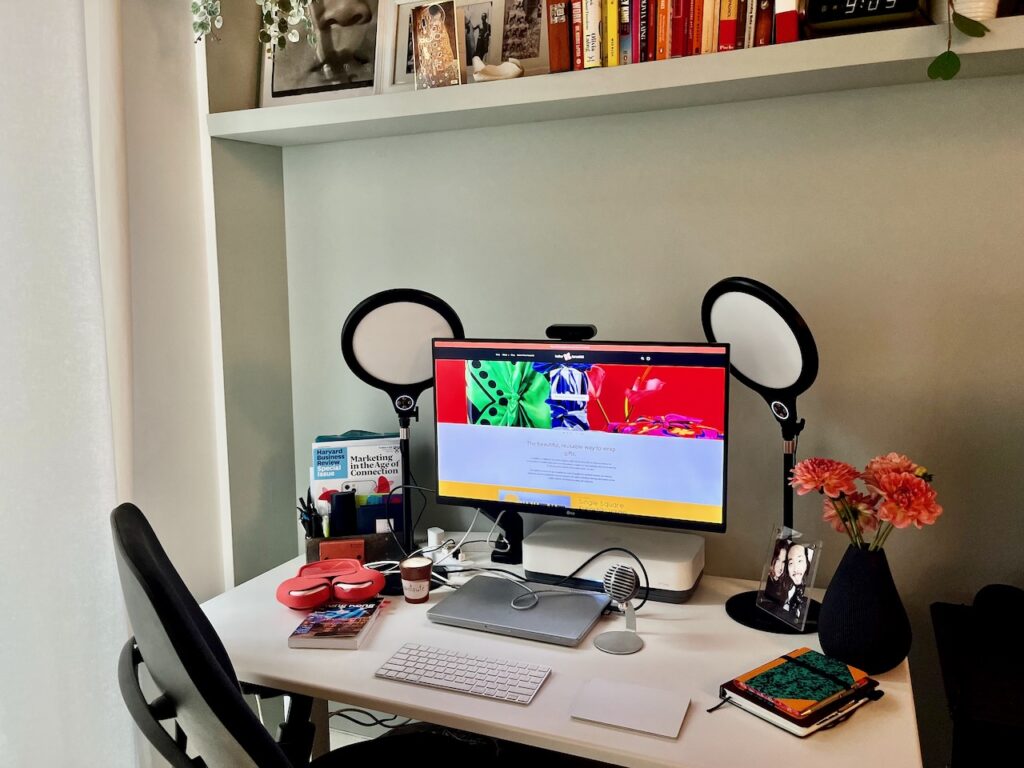 Devrims: Let's take a walk to the past. You have worked in content creation. How important is quality content in the marketing of your product?
Andrea: Quality content is truly fundamental to marketing any product but people often misunderstand two things: what constitutes content and what is considered quality. Content isn't just a blogging strategy. It's everything from your landing pages and email marketing to your in-app labels, buttons, prompts (microcopy), and more. If you have a physical product, this includes any text on the packaging itself. Content has to engage the consumer, educate them, and create desire for your product. The age-old adage of the form being the message is also true. You have to present the right message, at the right time, in the right format to drive the best results. It's not an easy feat.
When it comes to quality, a well-crafted 1000-word blog post might be higher quality than a 30-second TikTok video shot and edited on your phone, but depending on the audience, message, and tactic, the scrappy TikTok might actually be serving your business goals better. In short, I really can't overstate the importance of studying your audience and designing your content strategy around your specific goals, not just what is trendy.
Devrims: You are a traveler. Which country is on your bucket list that you want to visit but never got the chance to?
Andrea: My husband and I are planning to spend a portion of the fall in Hong Kong and I'm very excited to visit for the first time.
Devrims: You are a digital nomad. If someone has to start their nomad journey, what are the top three suggestions you would give?
Figure out your insurance, managing your mail, banking, and all the admin side of it so you don't have any surprises while you're on the road. It's not difficult to manage all of this digitally, but it does require some planning and set up.
Make a plan for your cell connection and data. Whether that's a roaming plan, sim cards, travel wifi, etc…make sure you have, and budget for, an alternative to public wifi.
Don't rush. Take your time in a location. It's stressful and can hinder productivity to cram too many destinations in a short period of time. Savour relocating to one spot for a period of time – that's when the magic happens.
Devrims: After a tiring day of work, how do you like to relax?. 
Andrea: I'm lucky to live in a city that really prioritizes work-life balance. In the evening, I like to swing by the open-air markets to get some groceries and chat with my neighbors or meet a friend for a drink. As an entrepreneur though, it's really hard not to go back to my computer to put in a few hours more in the evening, when I feel most creative.
Devrims: Lastly, name two people that inspired you and you would like us to interview next?
Andrea: I'm really inspired by what Yen Tan (they/them) is doing at Kona. They are a young company developing technology and tools to help remote managers build better workplaces, a mission I really believe in!
If you haven't already, Alex Denning is a great resource on tech marketing trends.