2023 is the "Year of AI".
ChatGPT was released on November 30, 2022—and the world has not remained the same since that day. However, the true potential of generative artificial intelligence (AI) is unfolding before us. In the last eight months, several AI tools have arrived on the scene to make us more productive.
It's no surprise that we've seen dozens of AI tools and plugins developed for WordPress this year. Bertha AI is one of the best WordPress AI co-pilot tools you can find nowadays. It's co-founder, Andrew Palmer chats with us in this interview.
Devrims: Hey Andrew, thanks for being here today. Tell us about your professional background. How did you get started in AI?
Andrew: I have been in the WordPress world for a good while now: Mainly building websites, running an online marketplace which I sold to a hosting company, and now with my co founder running Bertha AI. Vito Peleg and I go a long way back. I loved his product—now called Atarim. I decided to invest, almost by accident in his company and it's going great guns now. Vito suggested we get into artificial intelligence and Bertha AI was born.
Devrims: What motivated you to start Bertha AI? How did you identify the market need for AI-powered copywriting solutions? 
Andrew: Both Vito and I wanted a simple solution that WordPress website owners and developers could use to help them get started on content creation. We definitely succeeded in that. Bertha AI is a simple solution that ticks pretty much all the boxes. She works well with the most popular themes, page builders, classic press and of course the blocks that are now growing nicely in WordPress.
Devrims: What sets Bertha AI apart from other AI writing solutions? Why are customers choosing your products?
Andrew: Her simplicity! She is always right there in your WordPress dashboard or in your web application via a Chrome Extension.
Devrims: What has been your strategy for getting traction with customers? How do you assess market fit and validate product-market fit?
Andrew: We knew people would love her from the off, so we focus on Bertha being a helpful AI assistant rather than a programmed bot that will write everything for you. She can do that too. We like to think of her as an AI solution that can be utilised by anyone—technical or not. The secret is, of course, in the pre-written prompts of which Bertha has many.
Devrims: How do you make decisions around which features to prioritize on your product roadmap? How do you balance technical needs and business goals?
Andrew: Our feature set is pretty much complete, we may add a few small enhancements. In reality, Bertha AI answers all the questions regarding bloggers, podcasters, translators and general website text and image creation. You can record a video or podcast, ask Bertha to transcribe it, translate it and even create an SRT file for closed captions. She can rewrite text, create FAQs and the answers, and of course write and chat prompts, write anything, create images for anything, and save you hours and hours in your day.
Devrims: Let's do a quick rapid-fire round:
| | |
| --- | --- |
| Devrims | Andrew |
| Books or Movies | Movies |
| Day or Night | Both – I am an entrepreneur after all. |
| Tea or Coffee | Both: Tea in the morning; Coffee ALL DAY! |
Devrims: As a co-founder, how would you describe your leadership style and approach to company culture? What values are most important?
Andrew: Far too laid back and relaxed—except when something silly breaks
Devrims: What advice do you have for other technical founders looking to build an AI startup? Biggest lessons learned about leadership?
Andrew: Remember there is always going to be plenty of competition, set yourself apart by your UX/UI, make it easy to use and easy to talk about.
Always try to figure out the roadblocks. If it's you, get out of the way!
Devrims: How do you handle and prioritize customer support requests, especially during peak times or when dealing with critical issues for your client's websites?
Andrew: Luckily we don't get too many support requests, even though we have 15,000 registered users. So, we are on them as soon as we get them in the main.
Devrims: You have experience supporting customers across many industries from SMEs to large enterprises. How do you adapt your services and approach for different customer segments?
Andrew: I think a customer-first attitude is required. So many times I see support answers that are really not appropriate—even rude. The customer is our lifeline to what we want to do with our own lives. Therefore, respect that and you won't go too far wrong.
Devrims: How about a glimpse of your workstation? We would love to have a look.
Andrew: It varies from day to day as I am sometimes in clients offices or like right now, I am in a coffee shop. So, here's a picture of that.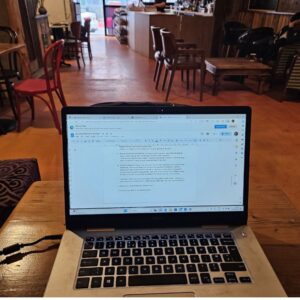 Devrims: Who do you recommend us to interview next?
Andrew: I'd love you to interview Stephanie Hudson of focuswp.co. She has a great offering for freelancers and agencies as a backup or even developer partner.
Devrims: Lastly, do you think AI will eat away jobs?
Andrew: AI has created thousands of jobs in a very short space of time. If you are careful and consider the opportunities that AI offers us all in generative creation, you will be as safe as you have ever been.