Devrims: Hi Chris, thanks for your support. You have over 15 years of experience building Internet businesses. What motivated you originally to start pursuing online entrepreneurship and what were some of your early ventures?
Chris: I was driven by a desire for location freedom after managing a sled dog tour business on a glacier in Alaska. My transition began with building websites for clients in the real estate niche that allowed me to work from home, especially after the birth of my daughter.
Devrims: Can you walk us through the journey of founding LifterLMS – what sparked the idea and what were some key milestones in growing it to where it is today?
Chris: The idea for LifterLMS stemmed from recognizing a gap in accessible online education platforms and a lack of an all-in-one WordPress LMS solution. Key milestones included our first release in 2014, reaching 10,000 active installations, and seeing many of our customers making significant income and changing the world.
Devrims: Why does LifterLMS take an open-source, freemium approach rather than a closed, premium-only model? What are the pros and cons?
Chris: Open-source fosters community collaboration and innovation. Pros: wider adoption, community-driven improvements; Cons: potential for fragmented user experiences, revenue challenges.
Devrims: What emerging trends are you seeing right now in the online education and coaching space? How should course creators be thinking about positioning themselves for the future?
Chris: Microlearning and gamification are on the rise. Course creators should focus on bite-sized content and interactive experiences to engage learners.
Devrims: What advice would you give someone who is just starting out on building their own online training business today? What are the keys to not just creating but scaling it sustainably?
Chris: Focus on niche markets and prioritize quality over quantity. Sustainable scaling requires consistent feedback loops and adaptability.
Devrims: Let's do a quick rapid-fire question.
| | |
| --- | --- |
| Devrims | Chris |
| Traveling or Staying Home | Both |
| WFH or Onsite | WFH |
| Tea or Coffee | Both |
Devrims: Launching a high-value online training platform on WordPress can be a daunting task for some. Can you share some insights into the process and how LifterLMS simplifies it for users?
Chris: LifterLMS offers intuitive course-building tools and integrates seamlessly with WordPress. Our platform streamlines course creation, monetization, and student engagement.
Devrims: For entrepreneurs and small business owners looking to build their first website, what are the biggest benefits you see of using WordPress as a platform?
Chris: WordPress is flexible, scalable, and has a vast ecosystem of plugins and themes. It's user-friendly for beginners while offering advanced capabilities for growth.
Devrims: When selecting a managed WordPress hosting provider, what key factors should business owners prioritize in their decision-making process?
Chris: Speed, security, customer support, and scalability should be top priorities.
Devrims: What WordPress plugins or tools do you view as absolutely essential for managing an online business?
Chris: Besides LifterLMS, essential plugins include Yoast SEO, User Switching, WP Fusion, a form plugin, Document Library Pro, Gravity View, Affiliate WP, and LMS Lite.
Devrims: Outside of LifterLMS, what are some other tools or resources you recommend coaches and course creators use to build and grow their online platforms?
Chris: Consider tools like Zoom for virtual meetings, some CRM, and video hosting like Vimeo Pro.
Devrims: Can we have a look at your workstation?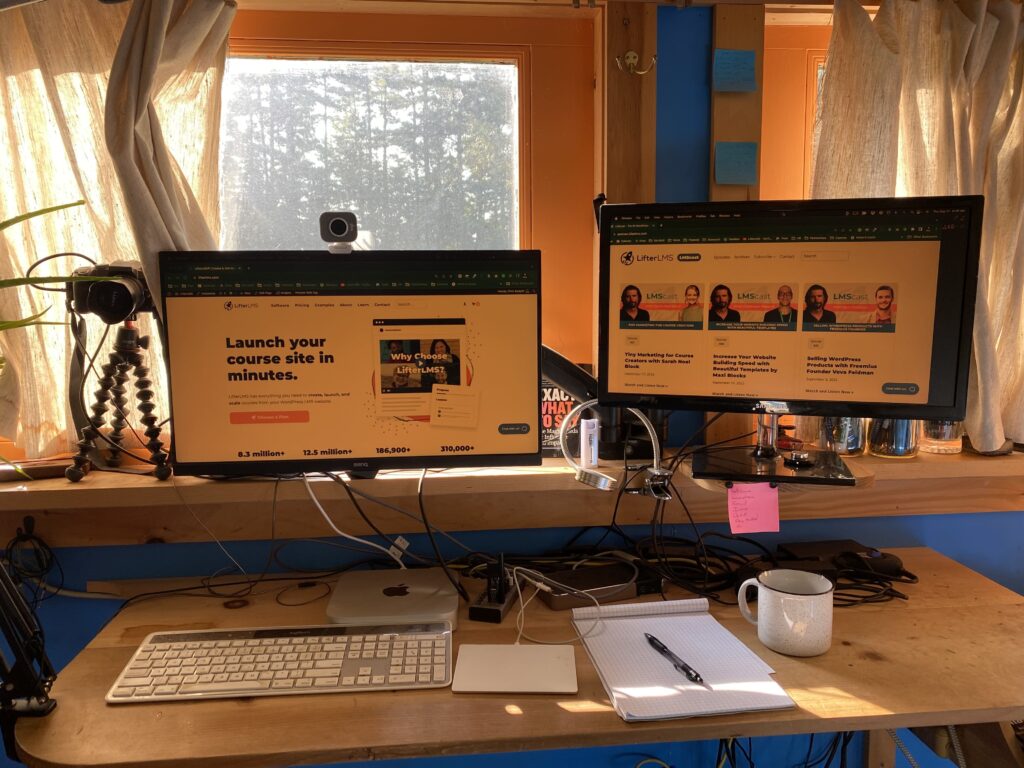 Devrims: Who would you suggest as our next interviewee?
Chris: Katie Kieth from Barn2