In this insightful interview, we have an interesting chat with Marius Vetrici, a software engineer with a PhD in business informatics and the founder of WPRiders, a prominent WordPress development agency.
Marius shares his career journey, the inception of WPRiders, and his vision for the company. He also provides valuable advice on WordPress, freelancing, and successful career building.
Additionally, Marius recommends 3 impactful books—and we are adding those to our reading list.
Devrims: Hello Marius! It's great to have you on our interview series today. For those who aren't familiar with your background, could you please introduce yourself and share a bit about your career journey and what you're focused on now?
Marius: I'm a software engineer with a PhD in business informatics. My journey in the tech world began way back in 2003, and since then, I've been in the business of crafting, creating, and selling software products, covering everything from Inventory Management applications to Enterprise Document Management Systems. More recently, our focus has shifted towards providing top-notch WordPress support and development services.
It all began when I dipped my toes into freelancing in 2014, initially on various freelance platforms and then migrated over to Codeable. Over time, I expanded my freelance endeavors into a full-fledged agency known as WPRiders. These days, our goal is to be the go-to source for dependable WordPress programming, catering to the needs of small to mid-sized businesses and startups.
Devrims: Can you briefly explain your PhD in economy informatics? How has this education helped in your business?
Marius: I studied for about 7 years how to estimate the duration of a software project. Throughout the research, I found a couple of interesting ways to measure and manage the risks of a software project. Most of the findings have been summarized in the WordCamp Lausanne talk that I gave a few years ago.
Devrims: Marius, could you give us a brief overview of WPRiders: How it started, what services you offer, and what the vision is for the company? I know our readers would love to learn more about the WPRiders story straight from you.
Marius: WPRiders Agency's origin story is a bit like that time you decided to make a sandwich and ended up opening a gourmet sandwich shop. Back in 2014, it all began with a few freelancing gigs I was working on. I was fortunate to find a wonderful team and some of our team's talented members have been with us for 5, 7 and even 8 years!
As of today, WPRiders offers reliable WordPress development services on a subscription for companies looking to grow.
We are doing our best to become the "Chicago Bulls" of WordPress, which is a very talented team of "players" who "play well together". We aim to do the same by delivering impactful results for our customers.
Here are seven aspects that set us apart from thousands of other agencies:
We have over 1500 five-star reviews​
All project managers have a background in development.
Disciplined people and disciplined actions
Integrity remains our golden rule.
Our response time is 80% faster than the competition.
We employ a scientific approach backed by PhD research.
Devrims: What books have been most impactful in your own career journey? And what 2-3 book recommendations do you have for our readers looking to grow?
Marius: These two books are useful for those looking to grow:
1) Obviously Awesome: How to Nail Product Positioning so Customers Get It, Buy It, Love It—this is for achieving the difficult task of product-market fit.
2) 12: The Elements of Great Managing—about employee engagement and motivation.
In terms of impactful books, I appreciate Napoleon Hill's The Law of Success. To me, it's the most comprehensive and profound book about success.
Devrims: With your extensive WordPress expertise, what's one insightful tip or nugget of advice you could share with our readers to help them get more out of working with WordPress?
Marius: If your website already has 30 plugins, every time you add one, take another down. Try to keep the total number of plugins under 30.
This is important because every plugin you add increases the complexity and cost of maintaining your WordPress website.
Devrims: What made you choose to focus on WordPress, despite the many other CMS options out there? What drew you to WordPress from the start?
Marius: We chose WordPress because it struck the right balance between user-friendliness and flexibility. You can build a complex web app on top of WordPress fairly quickly. Besides that, it has had a large and supportive community for more than 20 years, and it was continually evolving. So, it was a natural choice for us from the start.
Devrims: What do you see as the main benefits of using managed WordPress hosting? I'd be curious to hear your thoughts on the value of managed hosting for WordPress users.
Marius: Quality managed hosting operates seamlessly. It eliminates concerns about Linux packages, PHP versions, clusters, or load balancers. Outstanding managed hosting goes the extra mile by proactively safeguarding your website from hacking attempts, defending against DDoS attacks, and handling plugin updates by ensuring your site's continued functionality post-update through visual regression testing.
Devrims: What's your top advice for building a successful WordPress career?
Marius: For a successful WordPress career, my suggestion is to stay committed to continuous learning and seek mentorship. Sign up for some newsletters and read them at least once a month. Having a mentor can provide invaluable guidance, insights, and support to help you navigate the complexities of the field, making your journey simpler and your career more successful. So, keep learning and get mentorship to excel in the world of WordPress.
Devrims: Could you share a photo of your work desk with us? Our readers would love a peek at your office setup.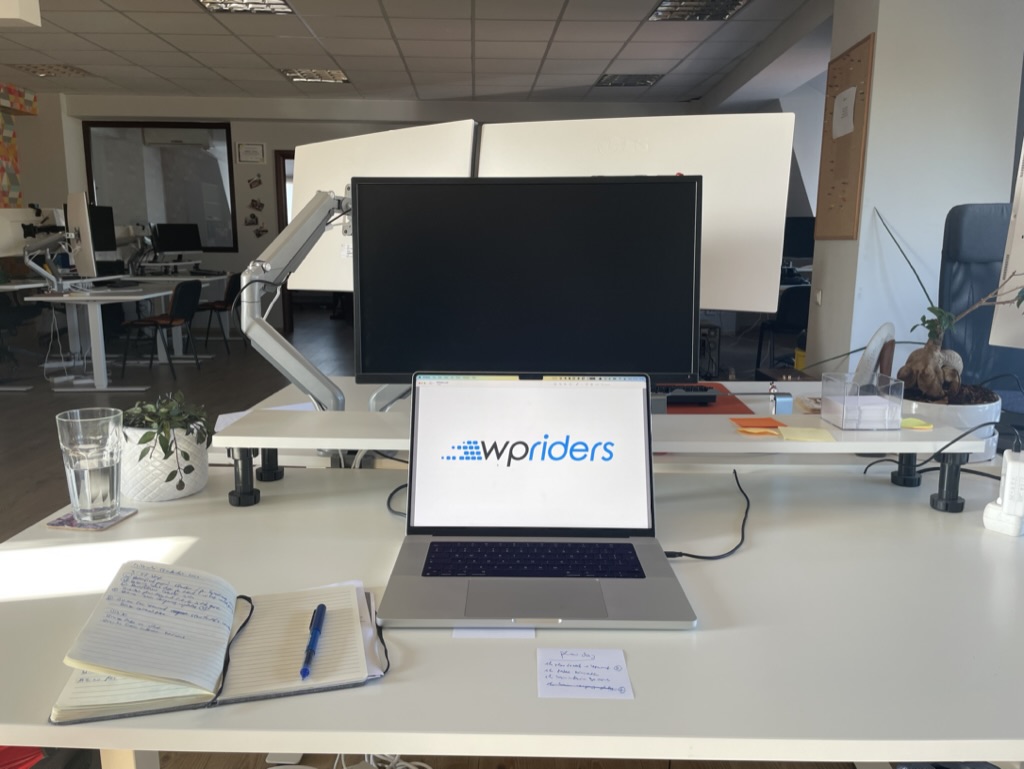 Devrims: Here's our quick rapid-fire round.
| | |
| --- | --- |
| Devrims | Marius |
| Cat or Dogs | mmm…. None 🙂 |
| Sports or eGaming | Sports |
| Tea or Coffee | Tea |
Devrims: I'd be interested to know when you first started taking on freelance projects and how many years of freelance experience you now have under your belt.
Marius: I've been freelancing for about 1.5 years and then we scaled to WPRiders agency.
Devrims: What's your advice for being a successful freelancer? Do you think it suits everyone?
Marius: I think freelancing is the hardest one compared to working as an employee or being an entrepreneur who runs a small company. As a freelancer you have to do both selling as well as delivering – and this is very difficult to do in the long run. Just like most of the things in the world, there are people who are more or less suited for a specific activity, including freelancing.
Devrims: Who would you recommend we interview next for our series?
Marius: I'd suggest you interview Andrei Haret, a talented and experienced marketing pro.