We always strive hard to provide the latest and most outstanding technology for better performance and high security. Today, we're so happy to announce an exciting new feature addition to the Devrims Platform. Introducing one-click installation of LOMP Tech Stack includes OpenLiteSpeed Web Server for better performance and more security.
Technology advancement with full freedom and simplicity are Devrims' top priorities. With the addition of the LOMP Stack, we proudly say that the Devrims platform is the only Managed Cloud Hosting Platform to support all Php-based Tech Stacks for Linux-based environments.
All three Php-based Tech Stacks are supported by the Devrims platform. So let's have a quick intro.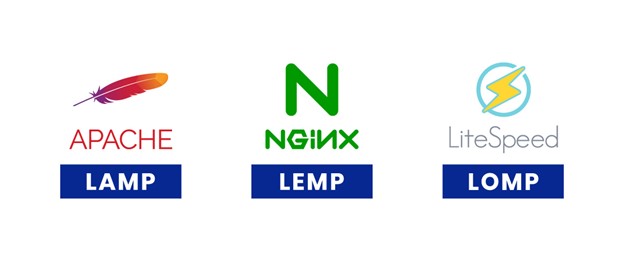 What is OpenLiteSpeed Web Server?
OpenLiteSpeed is a high-performance and more-secure web server developed and maintained by LiteSpeed Technologies. It offers incredible speed and the ability to handle hundreds of thousands of concurrent connections without load spikes, making it different from the competitors. LiteSpeed web server comes with a Free LSCache for lighting fast performance of CMS and eCommerce store.
OpenLiteSpeed is an easy replacement for Apache and Nginx web servers without any code-level changes. Regarding popularity, Apache won the race because it's the first reliable web server for Php applications and many old-fashioned hosting providers offer Apache web hosting.
The OpenLiteSpeed web server is new compared to its competitor but addresses all those feature gaps, performance issues & security concerns of previous web servers. Despite the late entry into the market, it is used by more than 15% of applications, proving the high adoption rate.
Features of OpenLiteSpeed
1) Performance Which Matters the Most!
The server response time, data transfer rate & handling of concurrent request without load spike makes LiteSpeed Web Server wins the performance race. Its advanced technology, unique event-driven architecture, and powerful cache engine give you high performance while consuming fewer hardware resources.
The LiteSpeed server's lightweight architecture and optimized code increase the Php performance and serve static content faster. The event-driven architecture makes it best to handle load spikes without affecting performance. There are so many other features of LiteSpeed discussed below which help you to get the best performance.
2) LSCache for Lighting Fast Speed
The LiteSpeed server comes with a built-in powerful cache engine to boost the performance of your website. The LSCache is the best alternative to Apache Mod_Cache and Varnish. For WordPress, WooCommerce, Magento & other CMS users, LSCache is an all-in-one solution for website performance that offers server-level cache and many other features. It significantly reduces the page load time and increases performance. With the LSCache, you no longer need to purchase expensive cache plugins.
LiteSpeed web server always comes first whether supporting HTTP2 or HTTP3. It is the first web server to support HTTP3 fully. LiteSpeed web server was also the first in the industry to support HTTP2. It gives you extraordinary performance and advanced technology, like the first web server that supports offloading SSL handshake, the most time-consuming job in SSL operation.
4) Handling Concurrent Connections
LiteSpeed server is built on event-driven architecture, unlike Apache, which uses process-based architecture. Apache servers create new processes or threads for every request, which means the server creates a new Php process for every request, increasing memory usage dramatically during high-traffic hours. The process-based architecture also increases the backend-response time in case of multiple concurrent connections, regardless of server size.
On the other end, event-driven architecture creates only one thread or process to handle multiple requests. Since the LiteSpeed server uses event-driven architecture, giving consistent high performance during high-traffic hours. It creates one process to handle multiple events that pop up. New requests are coming in and new dynamic responses are ready against the request.
Handling multiple concurrent connections while using minimal hardware resources due to its event-driven architecture, making it Super-Fast compared to other web servers. Therefore, it is an excellent option for your busy website.
LiteSpeed is a very lightweight & high-performance server, as its name suggests. Rather than creating a new process or thread for every request, it uses one process to handle multiple requests and save the RAM and CPU utilization. In case of high traffic, it consumes slightly more RAM and CPU but does not increase hardware usage exponentially like Apache. On average, you can save 30% hardware resources with LiteSpeed Hosting compared to other web servers.
The LiteSpeed web server saves network bandwidth and reduces data transfer time by sending Gzip or Brotli compressed responses for static and dynamic content. The Brotli is a next-generation compression algorithm developed by Google as a successor to Gzip method. The Brotli reduces the file size and page load time like Gzip but very fast.
Once the application generates the website's content in html and CSS format and compresses the data before sending it against the request. Once the browser receives the data, it will decompress before rendering. By default, the Gzip file compression is enabled on every LiteSpeed server and for Brotli file compression, you need to change the configurations.
Security is the most important factor in your online presence. It not only protects your website and confidential data but also your online reputation. Every web server has some security features, but LiteSpeed is the winner. The high-level website protection and out-of-the-box technology make it win the security competition.
It supports Apache mod-security rules with additional security features like protection against brute force and DDoS attacks. Also, IP level throttling saves network bandwidth against the request received from a single IP address regardless of connection count by limiting the number of concurrent connections from a single IP.
LiteSpeed server moves the security captcha from the application to the server level and prevents unauthorized login attempts by automatically blocking IP addresses. The web application firewall, static file checking, request checking CGI resources consumption limit, etc., are LiteSpeed's main security features.
Apache vs Nginx vs LiteSpeed
For Php-Based CMS, Apps & Frameworks, three widely used web servers are Apache, Nginx & LiteSpeed, with a total market share of more than 95%. Let's have a comparison:
| | | | |
| --- | --- | --- | --- |
|   | APACHE | NGINX | LITESPEED |
| Performance | Below Average | Average | Excellent |
| Event-Driven Architecture | No | Yes | Yes |
| Concurrent Connection | 5,704 | 29,645 | 167,752 |
| File Compression | Below Average | Average | Excellent |
| Cache | Mod_Cache | FastCGI Cache | LiteSpeed Cache |
| ModSecurity | Modsecurity Rules | Modsecurity Rules | Modsecurity, Brute-Force, DDoS |
| HTTP3 Support | No | No | Yes |
Testing Result & Performance Benchmark
For testing purposes we have created three servers on AWS using LOMP (LiteSpeed), LEMP (Nginx) & LAMP Stack (Apache). Each server is located in Mumbai region having 1 vCPU and 1 GB RAM with WordPress version 6.0 and Astra Demo theme.

After adding testing domain name and SSL installation on all three applications, we have performed GTmetrix test. Here is the comparison report.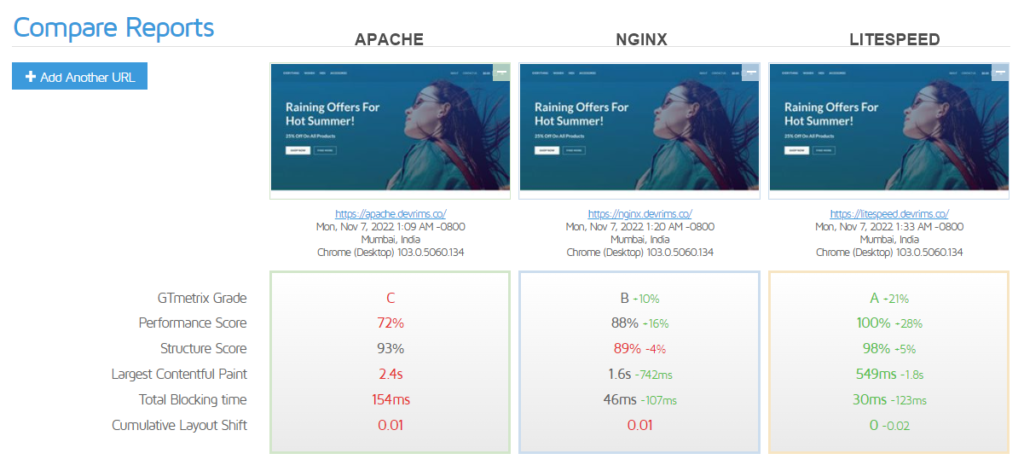 Now it's time for some performance benchmark results.
OpenLiteSpeed is 6 times better than Nginx & 29 times better than Apache when serving static files over HTTP2.

OpenLiteSpeed has 5 times higher performance than Nginx and 13 times higher than Apache when serving a cached WordPress website over HTTP2.

OpenLiteSpeed performed 70X more than Nginx and 71X more than Apache when loading an image with WAF enabled, using OWASP rules.

Why Host Website on OpenLiteSpeed?
If you are running a Php-based application, you might fall in the 95% of users who have three web server options: 1) Apache, 2) Nginx & 3) LiteSpeed.
Based on the features, comparison table and performance benchmark results of LiteSpeed we discussed above, it is the best option and far better than Apache and Nginx.
As a website owner, you need a reliable hosting that gives you high performance, full security and advanced technology with simplicity. The LiteSpeed server fulfills all your requirements far better than its competitor.
Many renowned hosting providers only support Apache and some offer Nginx web servers because their old-fashioned hosting platform cannot change or offer multiple Tech Stacks. So incorporating advanced technology and changing a web server will be a major change and business risk for them when you have thousands of customers live. That's why many old-fashioned hosting platforms don't offer LiteSpeed Web Server.
We always believe in technological advancements & user freedom. That's why we built a platform that can easily incorporate any technology without impacting existing users and limiting their technology freedom. LiteSpeed Hosting on a dedicated cloud server of your choice is just a few clicks task with Devrims Managed Cloud Hosting Platform without any complexities.
How to Host Website on OpenLiteSpeed?
This section will discuss installing and hosting your favorite application using the LiteSpeed server. Let's begin.

The Create Server Journey begins with Application selection.
Select your favorite App you want to host. For this blog, let me select WordPress 6.0.

After selecting the App, the system will auto-select the best Tech Stack and service versions based on your Application type. For WordPress, the Devrims Platform strongly suggests LOMP Stack. Still, if you want to use the LAMP (Apache) or LEMP (Nginx) Stack, you can change the default selection in one click.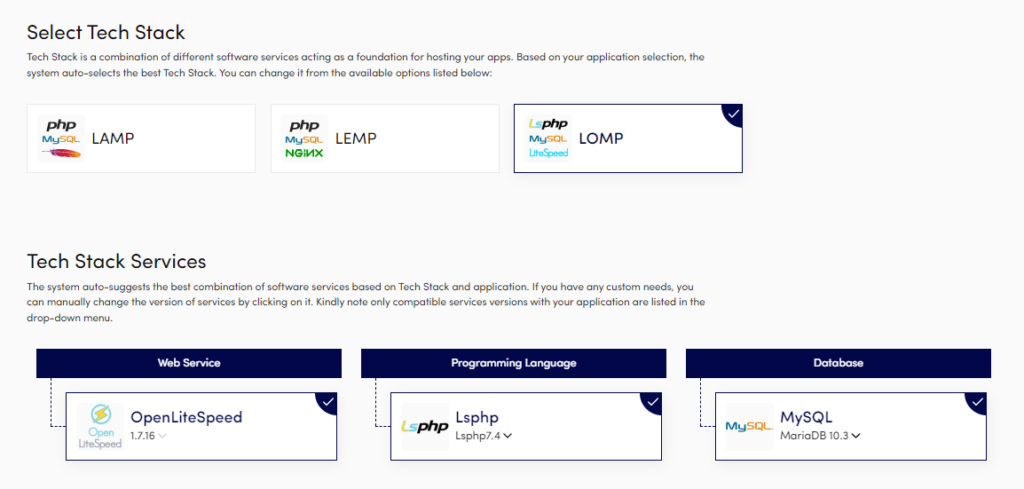 The third step is to select the Cloud Infrastructure Provider. Devrims offers two industry-leading cloud providers: Amazon Web Services & DigitalOcean. I am selecting Amazon Web Services and the North Virginia datacenter location. AWS offers 20 datacenters locations worldwide.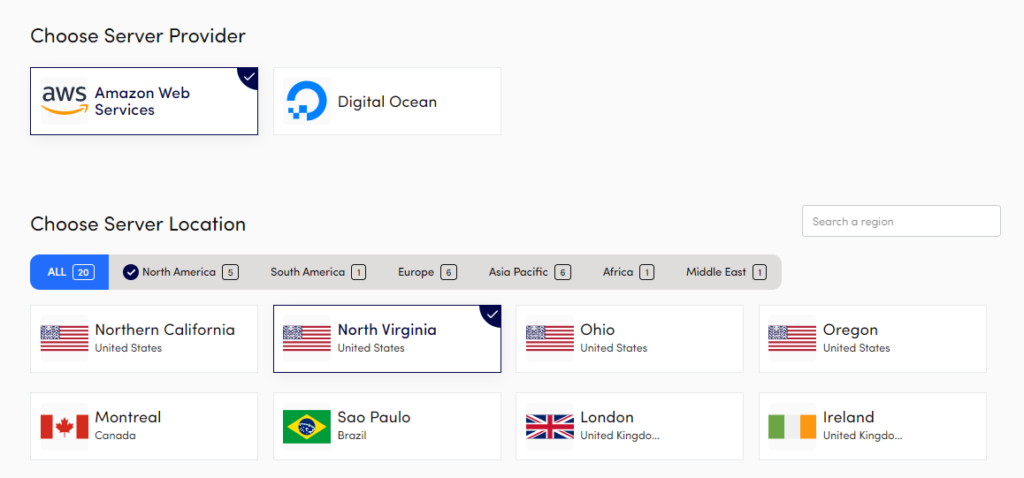 Now the last step is to select the server size and SSD Storage. By default, every server comes with 15 GB SSD Storage, but you increase it up to 3000 GB during server creation or anytime after. Also, the one-click server scaling feature helps you to scale up and down the server.

In the Configuration page, enter the Server and Application Name. Click Deploy!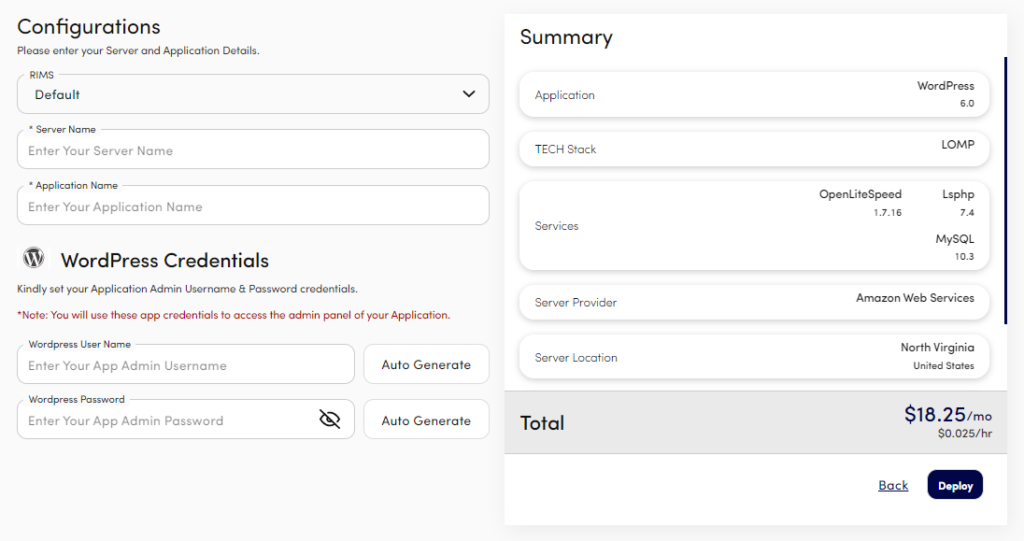 Within 10 mins, your dedicated LiteSpeed server will be ready to use with the default WordPress application and staging URL.
If you want to migrate your current website to Devrims, submit a Free Website Migration request ticket to the Devrims support team.
For WordPress, Magento and other Php-based CMS, the LiteSpeed server is the best choice for your website. The lightweight, fully secure & high-performance with supported cache engines makes it a far better option than Apache & Nginx. Suppose your application has custom needs or required code-level changes for implementing the LiteSpeed web server, in that case, you can choose Nginx or Apache as per the application requirements.
We are eager to provide new features & technologies, so we will come soon with some awesome feature updates. Please share your thoughts on the LiteSpeed web server in below comment section.