Rob Cairns, founder, CEO, and Chief Creator of Amazing Ideas at Stunning Digital Marketing, possesses over 30 years of experience in the technology and marketing fields.
With a career that spans from health care to digital marketing, Rob's journey is marked by the success of his clients, ranging from small businesses and non-profits to Fortune 500 companies. He is renowned for his ability to discern a company's "Inside Advantage," their unique selling proposition, and tailoring a marketing strategy to leverage this advantage in the digital world. 
Furthermore, Rob sets himself apart from his peers with his deep technical knowledge and understanding of online security, providing him with an edge in the industry.
Rob also hosts a podcast titled The SMD Show where he covers the latest in digital marketing.
We hope you will enjoy his interview thoroughly.
Devrims: Tell us how your digital marketing journey started.
Rob: I spent 21 years in Health Care in Technical support. The hospital I worked for made changes and my agency was born 14 years ago.
Devrims: At Stunning Digital Marketing, you work with the "Inside Advantage" of a client. How do you strategize around it?
Rob: I stress to my clients not to fight on price and to make their businesses stand out by being different.
Devrims: What role do you think SEO and email marketing play in the process of leads and conversions?
Rob: Both matter.
SEO is a long term strategy to get eyes on your website.
Email marketing is something we spend a lot of time on for ourselves and our clients. It helps build long term trust. Businesses work with people they trust.
Devrims: You have worked in this industry for a good amount of time, how do you manage to climb up with so much competition around?
Rob: Work with your clients. Show you care.
Add more value to their business than you promised.
Devrims: You are also a WordPress security expert, share some basic tips with our audience regarding security of their WordPress site?
Rob: I would do the following :
Have a good web host.

Regular backups that you have tested to make sure the restore works.

Do regular software updates

Run a software firewall

Use 2FA for admin logins on your website.

Hire a security expert like me to do it for you, so you can concentrate on your core business.
Devrims: WordPress turned 20 recently! What are your expectations from it in the future
Rob: A more robust product that keeps evolving and meets the community's needs.
Devrims: Has the SDM show made any sort of impact in your business
Rob: The podcast is a great lead generation tool.
Devrims: Managed WordPress Hosting helps with the security of your site, apart from the security. What are some important features that are must for a Managed WordPress Hosting?
Rob: For me, the biggest one is support. 
"Are they around when you need them?" That's one of the key deciding factors.
Devrims: Apart from the SDM show, what are your favourite podcasts?
Rob: I love to listen:
Business Wars

The John Delony Show – Mental Health

The Bob McCowan Show – Sports
Devrims: Currently, who is your favourite player from the Raptors?    
Rob: Pascal Siakim
Devrims: Give us a peak at your workspace?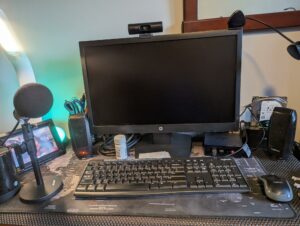 Devrims: Share a mistake that small business and agency owners should avoid.
Rob: Keeping toxic clients. It is not worth it.