People are looking for the best deals as the holiday shopping season is coming. You have a powerful platform at your fingertips to attract and delight customers with strategic discounts and promotions as an online retailer using Magento. Setting up discounts in Magento provides flexibility to run campaigns that drive engagement and increase sales. In this blog post, we will go through the steps to create discounts in Magento using cart rules, catalog rules, and targeted coupon codes.
You will learn how to set up timed promotions, discounts on specific products or categories, free shipping offers, and more. Whether you want to boost average order value or incentivize customers with special offers, Magento provides the necessary features. With the right discount strategy, you can delight customers, stay competitive, and take your ecommerce business to the next level.
Set Up Discounts on Magento
There are various ways to set up discounts on the Magento store. Setup discounts on your Magento with these four amazing techniques.
Configure Catalog Price Rules
Configure Cart Price Rules
Activate Automatic Coupon Codes
Enable Dynamic Coupon Codes
Configure Catalog Price Rules
Catalog price rules in Magento allow merchants to set targeted discounts for categories of products. Let's look at how to create and configure catalog pricing rules.
First, go to the Magento admin panel and navigate to Marketing>Promotions>Catalog Price Rules.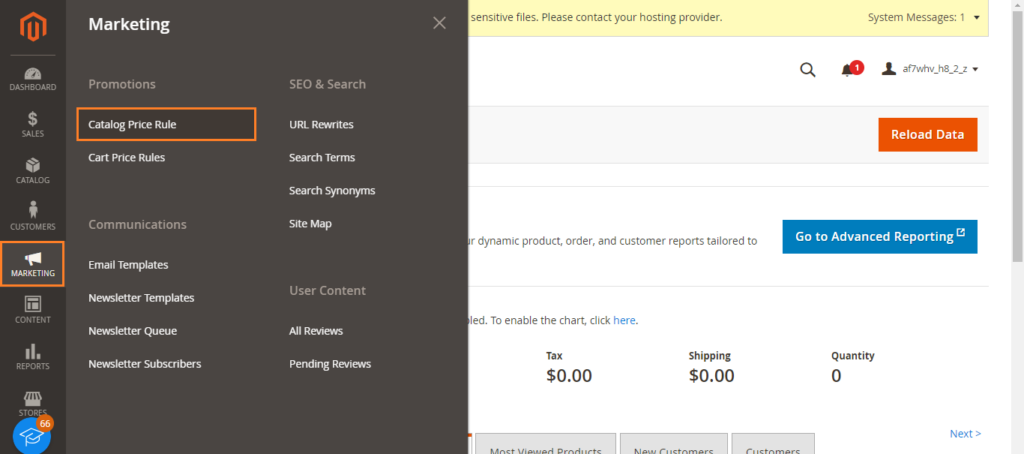 Click "Add New Rule" to create a new promotion.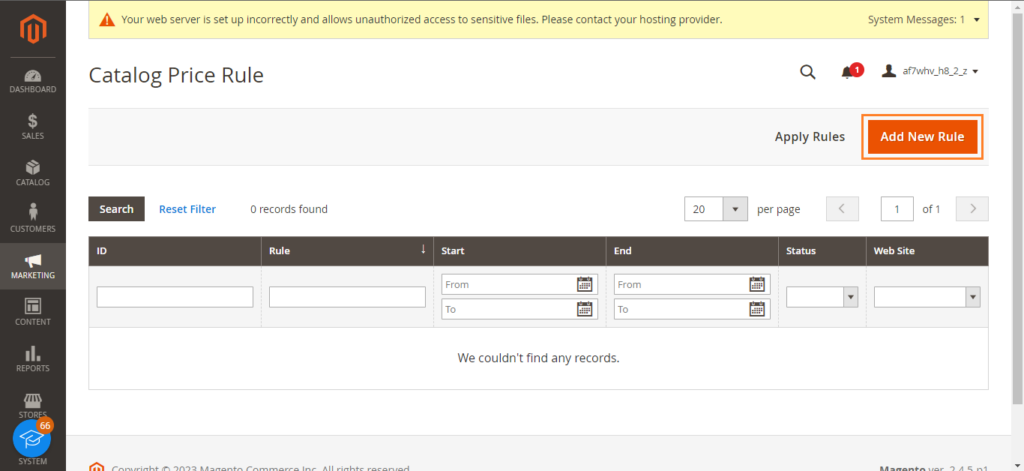 Add the details, enter name and description, set the status to Active, choose the website and customer groups it applies to, and enter the date range.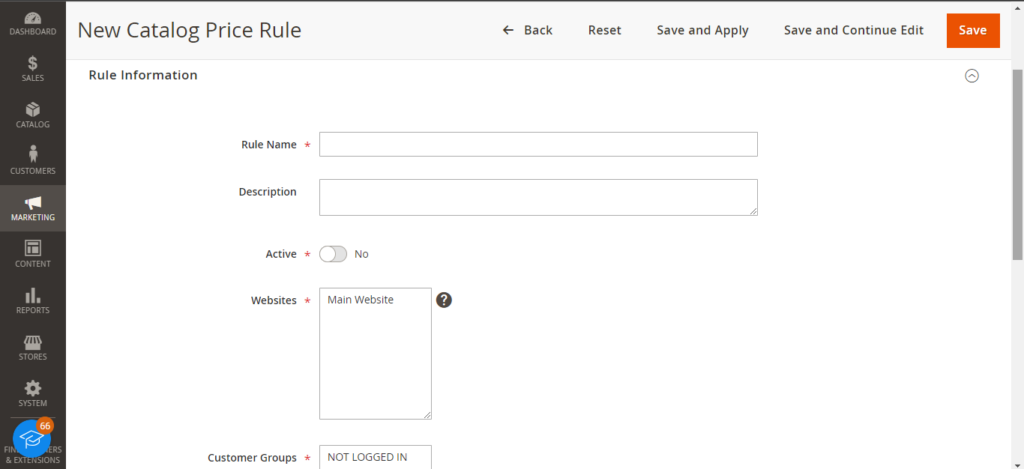 Next, define conditions like categories, SKUs, attributes, or price range to specify which products will be eligible for the discount. This targeting is a key benefit of catalog pricing rules.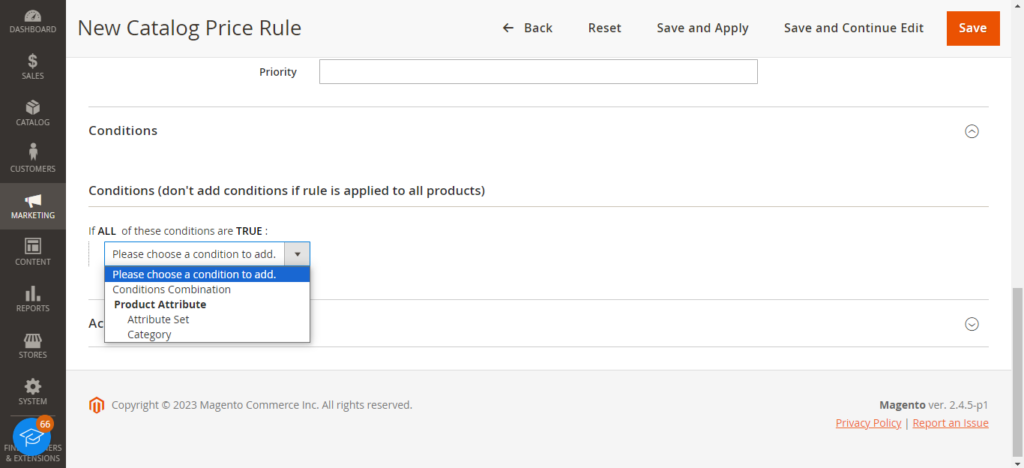 Now, select the type of discount – percentage or fixed amount in the Actions section.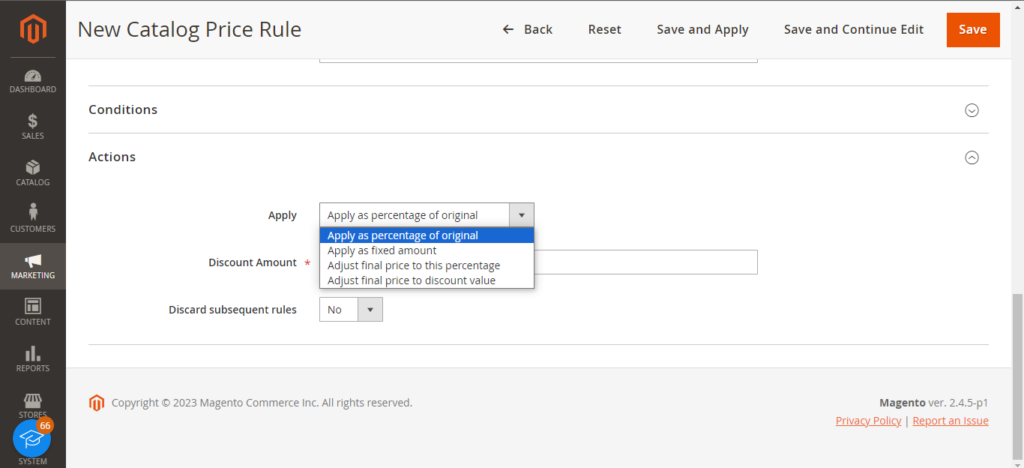 Enter the discount rate or amount you want to apply.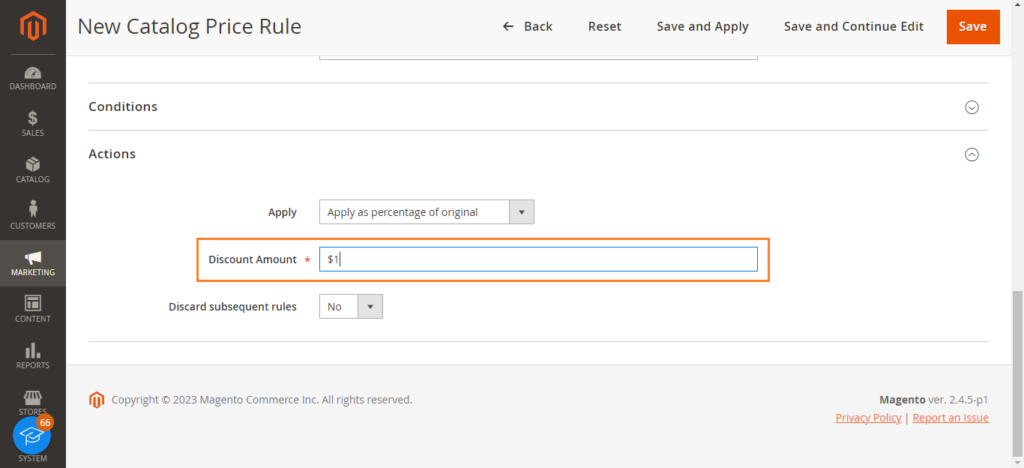 Catalog pricing rules enable discounts to be shown along with product prices in the catalog. This allows you to highlight deals and attract customers towards promoted items.
The catalog pricing discounts will automatically display on eligible products once the configuration is done. Catalog price rules are a versatile option for merchants running promotions with robust targeting and promotional pricing features in Magento.
Configure Cart Price Rules
Cart price rules in Magento are a powerful way to incentivize customers with discounts applied directly to their shopping carts. Let's see how to create cart rules and configure the settings for maximum impact.
First, navigate to the Marketing>Promotions>Cart Price Rules in the Magento admin panel.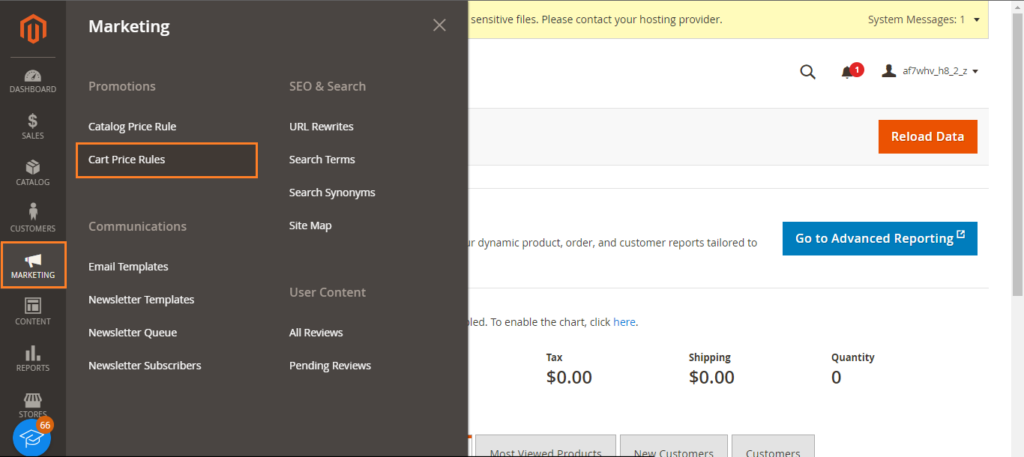 Click on the "Add New Rule" button.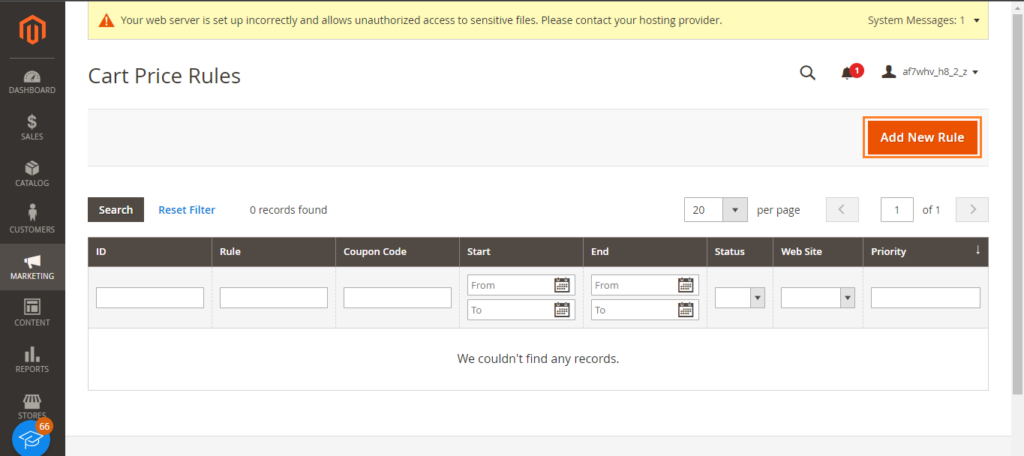 Enter the rule a name and description and specify the promotion's websites, customer groups, coupon codes, and date range.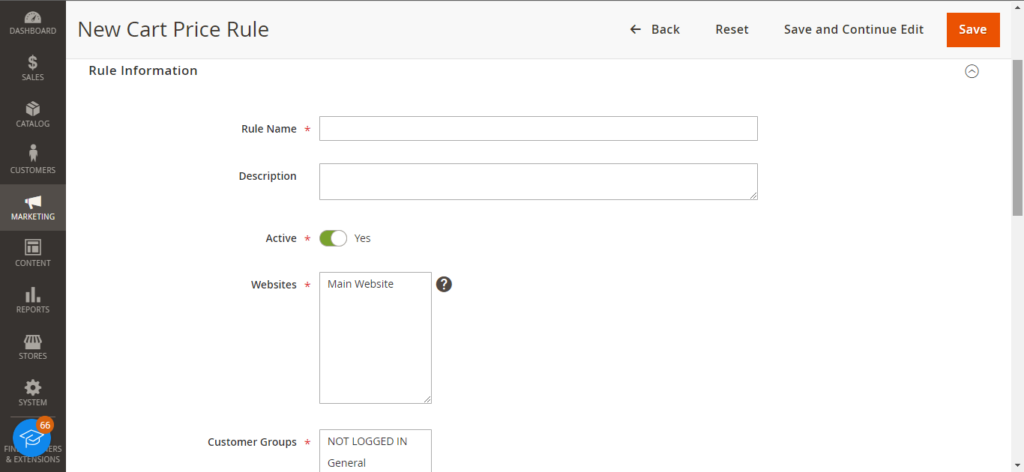 Determine the type of discount – percentage or fixed amount, percentage off or fixed amount of the shipping price, or buy X get Y free in the Actions section.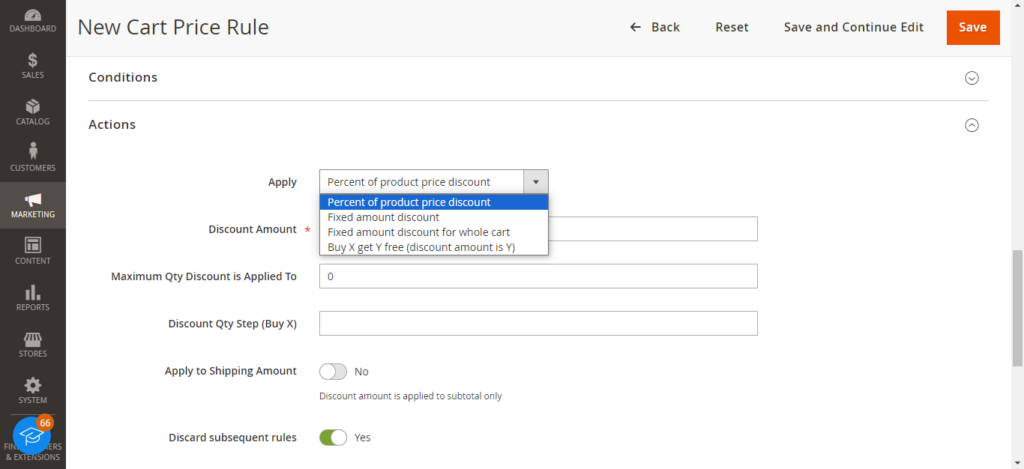 Specify the discount amount or quantities required to trigger the discount.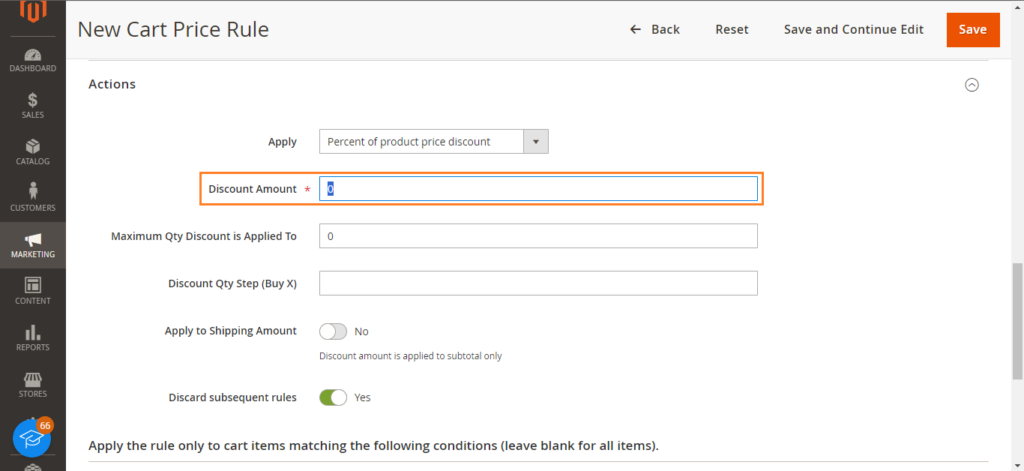 To target specific products, you can define conditions like SKUs, categories, price ranges, or attributes. These conditions will determine which items in the cart will receive the discount.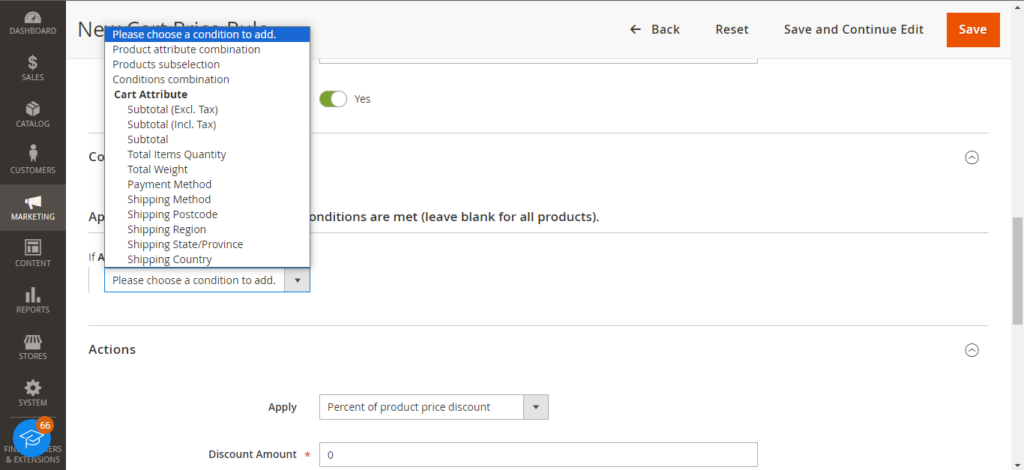 The Labels section allows you to customize the promotion description that customers see during checkout. You can tailor the messaging for a more compelling offer.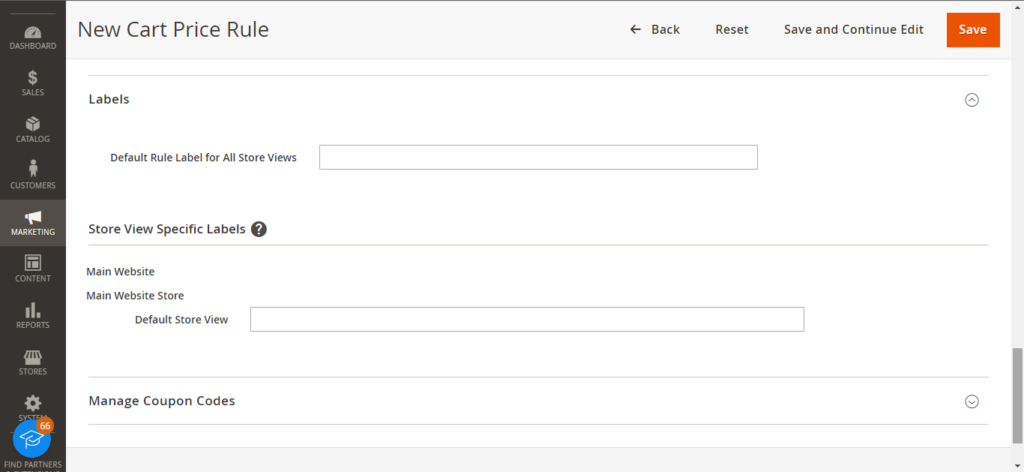 Enable the cart rule once the configuration is done. It will automatically apply the discounts to the applicable shopping carts. The power of cart price rules lies in encouraging larger basket sizes and influencing purchase decisions with strategic discounts applied directly at checkout.
Activate Automatic Coupon Codes
Customers appreciate businesses that make their lives easier in today's busy world. This principle also applies to ecommerce stores. When customers need to enter discount codes during checkout manually, it disrupts the purchasing process and risks losing the sale.
You can automatically apply coupon codes and seamlessly direct customers where you want them to go next with Magento.
For example, Magento can automatically validate the code, deduct the discount, and redirect them to checkout after a customer clicks on a promotional link.
Automating Magento coupon codes provides customers with a smoother, more efficient shopping experience. Follow these steps to get automated discounts up and running:
Create a new cart price rule for the promotion as we did in the cart price rule configuration.
Enter the coupon code, and Magento will generate a unique coupon link.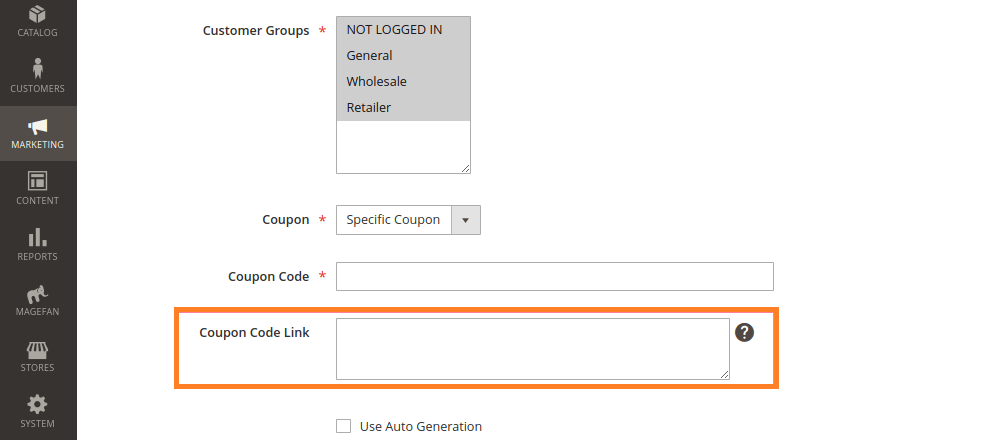 This link has two key elements:

The actual coupon code

A redirect URL where customers will land after clicking

Customize where customers go after applying the code. You can redirect to the shopping cart so they can review the updated total straight to checkout to complete the purchase.
Copy the generated coupon link and add it anywhere, such as CMS pages and blocks, Banners, Email newsletters, Social media posts, etc.
When customers click your automated coupon link, Magento seamlessly applies the code and redirects them instantly. It's a frictionless way to boost promotion usage and drive conversions.
Enable Dynamic Coupon Codes
You can create a customized discount code for each recipient of your email campaigns with dynamic coupon codes in Magento.
Imagine sending abandoned cart emails with unique codes incentivizing customers to complete their purchases. Or welcoming new subscribers with an exclusive promo code just for them. The possibilities are endless when you generate customized coupon codes tailored to each recipient. You can enable dynamic coupon codes using widgets.
The Magento coupon code widget seamlessly integrates this feature into your email newsletters. Add the widget and configure the type of exclusive promo you want to extend. Magento automatically generates a unique code for every contact.
Offering discounts and promotions is a great way to drive sales and attract new customers to your Magento store. You can easily set up a variety of discounts like cart price rules, catalog price rules, and special prices to incentivize purchases in Magento. The holiday shopping season presents a perfect opportunity to increase sales with strategic discounts. So take advantage of Magento's features, get creative with your promotions, and watch your sales grow!