Sonnal S. Sinha is the founder of SKT Themes, a leading provider of WordPress themes and plugins. With a background in Electronics and Telecommunication Engineering and an MBA in Marketing, he started his career in a consulting company before moving into website design and digital marketing. In 2010, he established his own company, Shri Krishna Technologies, becoming a top developer on Elance for WordPress.
Recognizing a gap in the market, he created SKT Themes in 2013, gaining recognition for excellent customer support and innovative themes. From the down days of 2008 global recession to the success of two WordPress related ventures, Sonnal's journey is truly inspiring.
We hope you will love this interview!
Devrims: Tell us how things got started and a little about your background?
Sonnal: I did Engineering in 2006 and then MBA in 2008. After passing out in 2008 i was selected in Satyam Computers which due to a controversy cancelled all the new recruitments and later got acquired by Tech Mahindra. And, if you remember, 2008 was the year when the global recession started, so jobs for fresh talent were not available as much.
So, I got a call from a campus recruiter if I was interested in working for an internet startup. Startups and the internet were not that common back in 2008 but since I needed a job I said yes. So I went for the interview for the position of online marketing intern and out of a bunch of 20 odd people, I got selected.
After working for 1 year, I understood how Google Ads (once known as "Google Adwords"), Yahoo, and MSN (now Bing!) ads work. I also passed exams for Google Adwords and Yahoo Ambassador for the same.
I also learned email marketing at the company. After 1.5 years, I was selected as a business development manager in a competitor company through recruitment where I learnt how websites were built and my job was to bid on several online freelancing platforms like Elance, Odesk, rent a coder, Freelancer, etc.
After working another year and doing a lot of business, I realized whatever I am doing here, I can go back home and do it for myself.
And that's how in January 2010 i started my own company Shri Krishna Technologies. We used to work with HTML/CSS initially and then Joomla. We used to build a lot of Joomla websites. Then in 2012, WordPress became very popular as a blogging platform and CMS for corporate websites. So, we switched to WordPress and never looked back since then.
In 2013, we launched SKT Themes, a WordPress themes selling platform. We have around 60,000 paid users and over 300,000+ free users for this website.
Devrims: What was the thought while starting Shri Krishna Technologies and after 13 years what are your plans?
Sonnal: We wanted to make websites for all kinds of business. That was my main motto when I started Shri Krishna Technologies and to date it remains the same after 13 years.
Devrims: What is the impact of a good WordPress theme and tell us about your SKT Theme WordPress theme bundle?
Sonnal: A good WordPress theme can significantly uplift a website and can have a great impact. 
Here are some of the reasons:
Visually appealing websites will have a lesser bounce rate and people would be hooked and try to engage with your business.

User experience is relatively smooth and a good WordPress theme ensures the navigation experience across the website is easy.

Responsive and mobile friendliness should work on all devices and hence prospects using any device will be able to view your business.

Easily customizable so that one can make changes relatively easily now or in future without much help from developers or designers.

Speed. Most important is speed (and no junk or outdated code). Moreover, regular updates ensure that the theme is always up-to-date with changes in WordPress ecosystem. Also, our themes are compatible with cache plugins which means you can get a fast website easily. 

Security is important! Our themes get regular updates as per changes to WordPress and we follow WordPress theme codex guidelines so that our templates are secured. Also, compatibility with security plugins is also ensured.

All the available SEO plugins in WordPress ecosystem are compatible with SKT WordPress themes.
Our WordPress themes bundle has 2 pricing options: an Annual Package worth US$69 where you get 360+ themes with 1 year of support, or a Lifetime Package worth US$199 where you get all the launched (and planned future) themes with lifetime support.
Devrims: It's seen WordPress usually creates features around popular plugins. How do you see this as a challenge for your business?
Sonnal: We always have to listen to customer demands. Right now, Elementor is popular and we have made several themes based using this page builder. However, the Gutenberg block editor (WordPress default page builder) is also getting popular. And, we are also launching several themes using the default block editor. In fact, we have launched more than 35 themes using Gutenberg.
Devrims: What role do you think SEO has in the exposure of a product?
Sonnal: It plays a great role for exposure of any website or product. Search engines bring in about more than 78% of our web traffic (including paid). SEO of a website is pretty important and we take it very seriously because if you are found well then you automatically can sell more.
Devrims:  Your learning journey never stops, currently you are enrolled in IIM. What is the motivation that keeps pushing you?     
Sonnal: I believe everyday is a learning experience. We are in IT and everyday technology keeps on reinventing itself and comes up with newer things. Right now, AI is the most trending hot topic.
If we don't learn, I don't think we can survive in IT. We are not into groceries where we have a monotonous job. We will have to learn new technologies and implement them otherwise we will be gone. Remember how Blackberry and Nokia vanished from smartphone space. 
I have completed a course from IIM Rohtak. I am currently completing a course from IIM Indore and will finish a course from IIM Nagpur by early next year. Apart from that I have also enrolled in Coursera Plus for 1 year, which means I will be completing several certifications (around 20 or so) by next year. I have already completed certifications from prestigious institutions such as IIM Ahmedabad, Yale University, and the University of Michigan, among others, through Coursera.
Doing these courses helps me with new knowledge and skills, and each day I feel I am getting better as a person. After all, knowledge is power. 
Devrims: What do you like to do in your free time?
Sonnal: I am married with 2 kids. So, it's my duty as a father to spend some time with my kids for their well being, But late at night I binge watch some series or movies on Netflix or Prime Video. I also spend evenings during the weekends with family and friends.
Devrims: Can we have a peak at your workspace?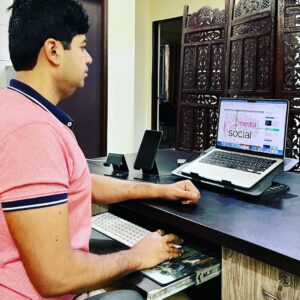 Devrims: Share some effective tips for a small business that helps in their social media presence
Sonnal: More than 4.5 billion people are active on social media and more than  71% of small-to-mid-sized businesses use social media to market themselves, and 52% post once a day.
It's crucial for small businesses to have a strong online presence in order to interact with more potential customers who require their services. Nowadays, many users rely on platforms like Google Reviews and third-party review websites to research and connect with businesses. If a business is not easily found online, the likelihood of attracting customers decreases. Online reviews and a robust social media presence instill trust in customers, assuring them of the business's authenticity.
You get more potential customers or prospects online via social media channels

Brand Awareness can be built and more people will know about your product or service offerings

Customer interaction and personalization is important and you can post online reviews and interact with customers via comments. You can also join groups where you can recommend your products and services to customers who are searching for something similar.

Long term relationships can be built with customers online and they will recommend your product and become your brand ambassador online giving you more returning business.