This blog enlists the top 10 best responsive WordPress themes that everyone is getting their hands on.
WordPress is currently powering 40% of all websites on the internet. So obviously it is quite in demand.
Woah! What did they do to gain so much popularity? Well, ask yourself, would you want a content management system that includes a massive library of plugins, add-ons, and themes that let you customize every single element of your website as well as add more functionality to your website?
I WOULD TOTALLY WANT THAT!
WordPress knows the demand and thus it offers market leaders exactly that – and much more!
Thanks to WordPress's high popularity, any business thinking of creating a website looks towards their themes. But there is so much variety that it actually becomes a difficult job. One feature that you, as a business owner, absolutely need for your website theme is responsiveness.
Why? Because mobile traffic accounts for about half of the web traffic. So there is a huge chance that your website will also be accessed via a smartphone.
Keeping this trend and need in view, we have compiled a list of the 10 best responsive WordPress themes for 2021. But before we dive into it, let me clarify why responsive themes matter so much.
What is a Responsive WordPress Theme and Why Does It Matter?
With the number of mobile web users surpassing desktop web users by a significant margin, having a responsive website is not a luxury anymore, it's super-necessary. As a business, you don't want to be missing out on a huge chunk of users who are accessing the web through their mobile devices which is why you need a mobile-responsive website.
Responsive WordPress themes can make your WordPress website accessible to millions of mobile users. So, it's decided that you will purchase a responsive theme. BUT there are certain factors that you need to consider before making the final decision.
Things To Consider Before Purchasing a Responsive WordPress Theme?
There are five things you need to consider before purchasing a responsive WordPress theme.
Price
Customization
Browser Compatibility
SEO Friendliness
Support
Are Premium WordPress Themes Worth It?
WordPress offers both free and premium themes. I personally think the free themes are great. But, you know, there are limitations attached to whatever is free. So, if you are not satisfied with the features and customization options offered in free themes, you can try out premium themes. Premium Responsive WordPress themes offer more features and carry customizations to the next level, thereby enabling users to tinker and tweak every element of their website.
Top 10 Best Responsive WordPress Themes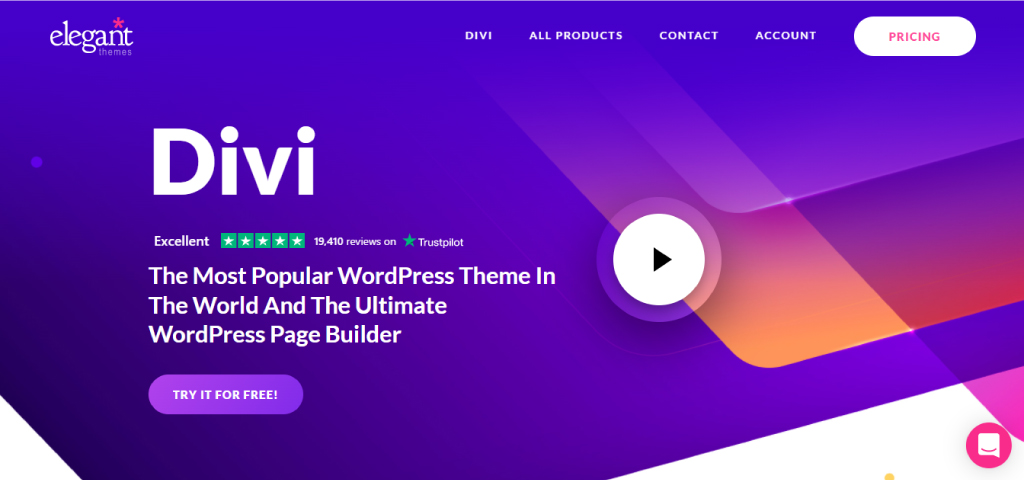 Divi is a feature-rich and easy-to-use responsive WordPress theme and website builder. It offers drag-and-drop functionality as well as a huge library comprising hundreds of WP responsive templates and layouts to choose from. Apart from traditional functions, such as the ability to create save and export layouts, it also offers users the ability to change colors, fonts, and much more. What's more, it is a mobile-responsive WordPress theme and SEO-friendly, which is why you should consider it.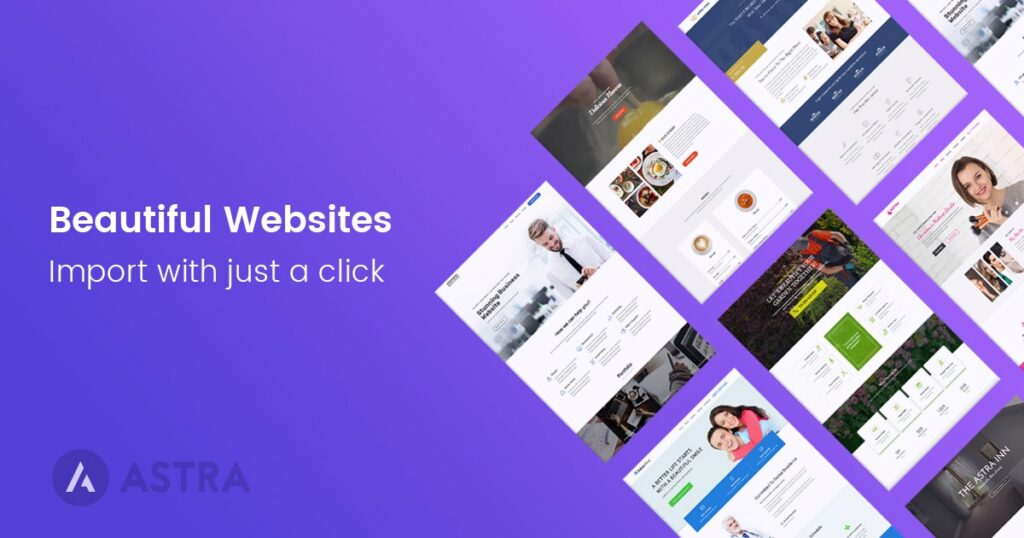 What makes Astra stand out from the crowd is its flexibility. Since it is built by following all the standard coding procedures and best practices, it is also easy to use. You can conveniently use it for multi-purposes, which is another feather in its cap. Add to that some advanced features such as the mobile header module, which gives more granular level control to users. You can not go wrong if you choose this responsive theme for your WordPress website.
Thanks to the mobile header module, you can now adjust header breakpoints and play around with different menu styles and colors for a mobile website. 
You can also see changes in real-time, thanks to the WordPress theme customizer so you know exactly how your changes will look when you make them live. Besides, you can expect consistent performance from this theme as it can make your website look great across all devices. All these features make this responsive WordPress theme a great choice for today's mobile-centric businesses.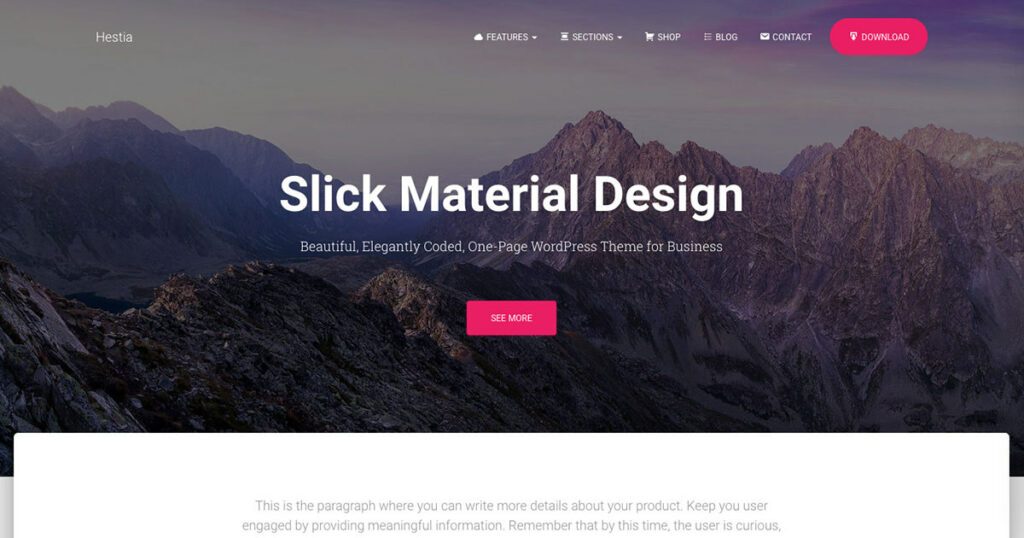 If you want a free WordPress theme that is also responsive, you should go for Hestia. Setting up this theme is a breeze, thanks to a theme's companion plugin. It offers a responsive WordPress template and adds a testimonial section and the home page automatically to your website.
It makes things much easier as you do not have to create these things from scratch. What is even more interesting is the fact that it comes with built-in support for e-commerce platforms like WooCommerce. You can also use it for a wide array of page-building plugins. If you want to use it for a shopping website, WooCommerce support turns out to be a bonus.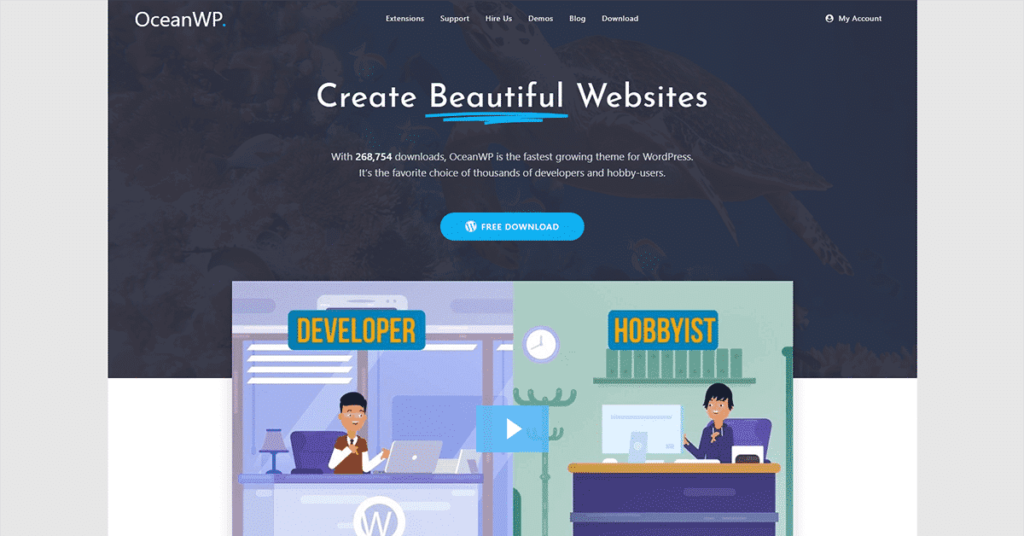 Now, let's talk about my personal favorite theme i.e: Ocean WP. Here's why I love it:
Ocean WP is a feature-packed responsive WordPress theme that has all the features you need. Due to this, it can be used for a wide range of websites and fits multiple purposes. If you are looking for a WordPress theme that can fulfill these criteria, you should certainly consider Ocean WP.
What makes Ocean WP special is that it works equally well whether you use it for business websites, e-commerce websites, or WordPress blogs. Its clean and simple layout will also bring a smile to minimalistic design fans as it can give your website a minimalistic and clean look. Moreover, you can also customize that clean layout with a responsive WordPress template as well as with widgets.
Additionally, you can play around with these settings and choose the options you want and customize your website to your heart's content.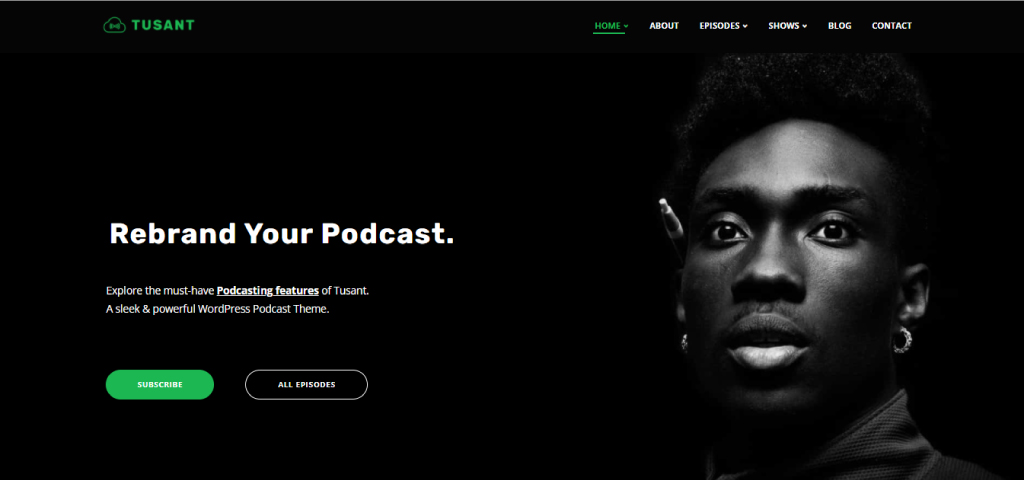 If you have an audio-centric website then Tusant will be an ideal choice for you. Primarily designed with podcasters in mind, it offers features targeted towards audio and video websites. Thanks to its native support and its ability to present podcasts in an eye-catching manner, Tusant makes your website stand out from the crowd and gives it a distinct look. If you prioritize a unique design and are ready to compromise with a niche feature set, then look no further than Tusant.
Users can either opt for a grid or list-based layout and arrange playlists, audio and video files, episodes, and their media in a way that users want. If you want more customization, you can even go into extended settings and the live customizer will allow you to change color in real-time or according to the theme of the media which plays in the background… and by the way, there is also a drag and drop page-building option that makes the whole process a walk in the park!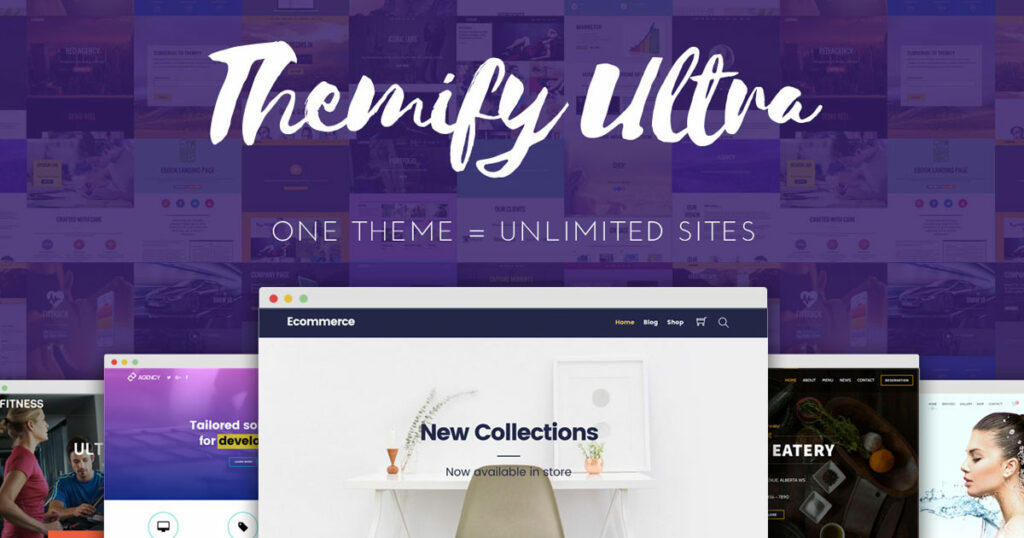 Another multipurpose responsive WordPress theme that deserves your consideration is Ultra. Why, you ask? Well, to begin with, it's an intuitive drag and drop page builder combined with a huge selection of built-in designs. Its large layout and template library gives you more design options to choose from. This can come in handy especially if you want to get your website up and running.
It also comes packed with some latest features such as parallax scrolling which can give your website a modern look. You can also add animations to your website as well as use counters. Additionally, you can also integrate Google Maps to help customers find your business location.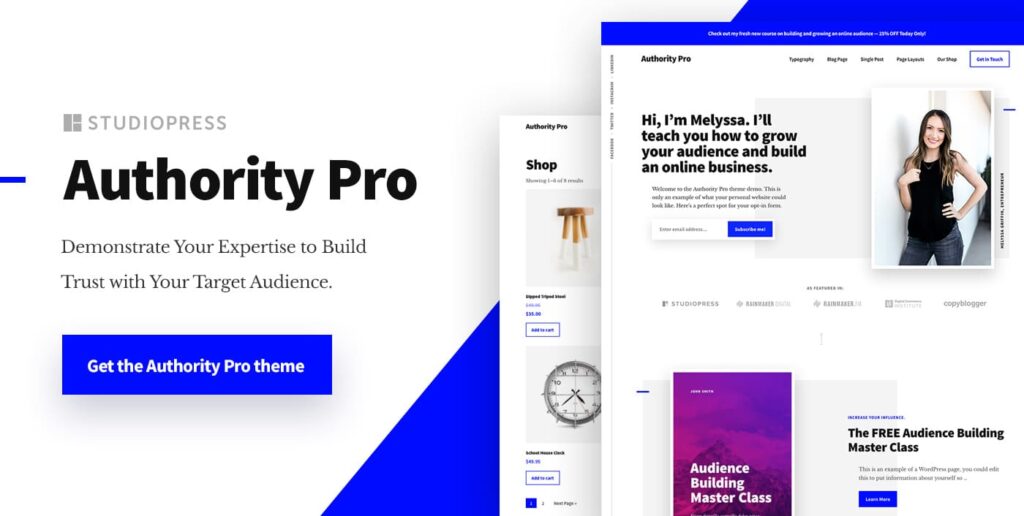 If you are an individual or a business that specializes in a particular niche and want to show off some of the niche-specific skills and masterpieces through your website, then this WordPress theme is the one for you. Designed with influencers in mind, it allows you to explore new opportunities and increase conversions. Thanks to its front page features and a modern layout, you can create a website that speaks just YOUR story.
Since the theme is eCommerce ready, you can even use it to sell your courses and create a community centered around your business niche. Features like the vertical social menu, flexible header layout, custom widgets, and multiple-page templates give users even more control over how their website might look.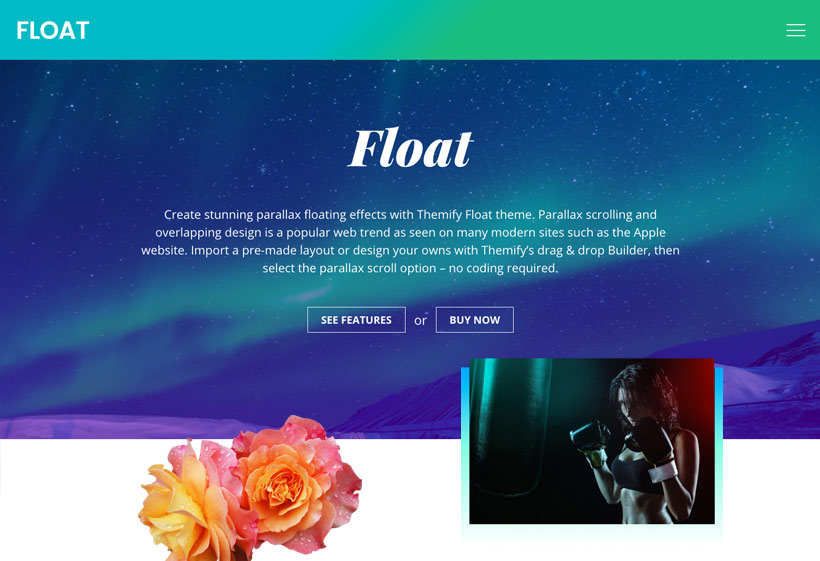 If you are looking for a responsive WordPress theme that offers you the customization and latest design features in a single package, then Float should be your choice. It is a highly customizable WordPress theme that comes packed with trendy design features such as parallax scrolling.
Apart from all these perks, it comes preloaded with a page builder that lets you design pages by dragging and dropping elements. Users can also select from a wide range of templates and layouts. It even contains some features that only premium WordPress themes offer, such as social media integration, custom backgrounds, and custom widgets.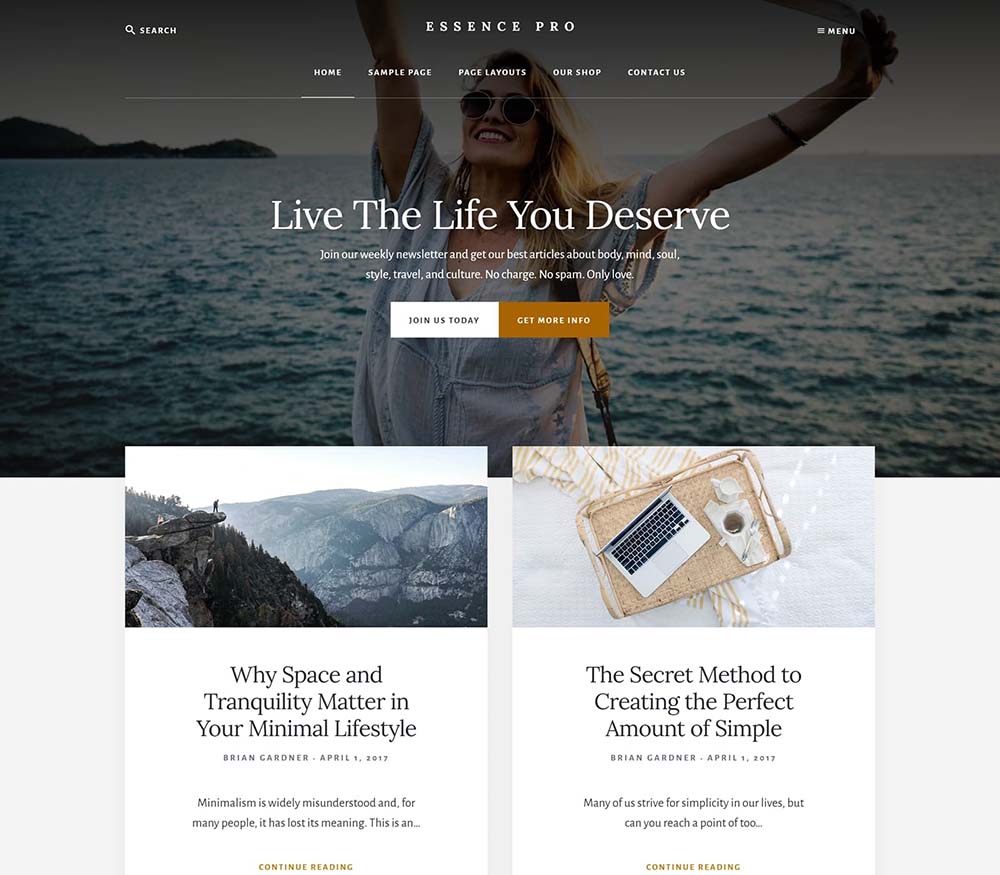 Whether your business operates in the healthcare industry or targets customers through its wellness and lifestyle offerings, the Essence Pro WordPress theme offers an answer to it all. This elegant theme has been designed keeping all your needs in mind. From a modern, aesthetically pleasing layout to an attractive call-to-action, which is placed prominently to a large header, it has all the necessary design elements that make a website great.
There is also a landing page template along with many other page templates which you can choose to create other pages of your website. This drastically reduces the time required to create pages and allows you to create a fully functional website in no time. What's even more interesting is that there is support for WordPress block editor which gives you more content layout options. It means that your website content will appear the way you want it to.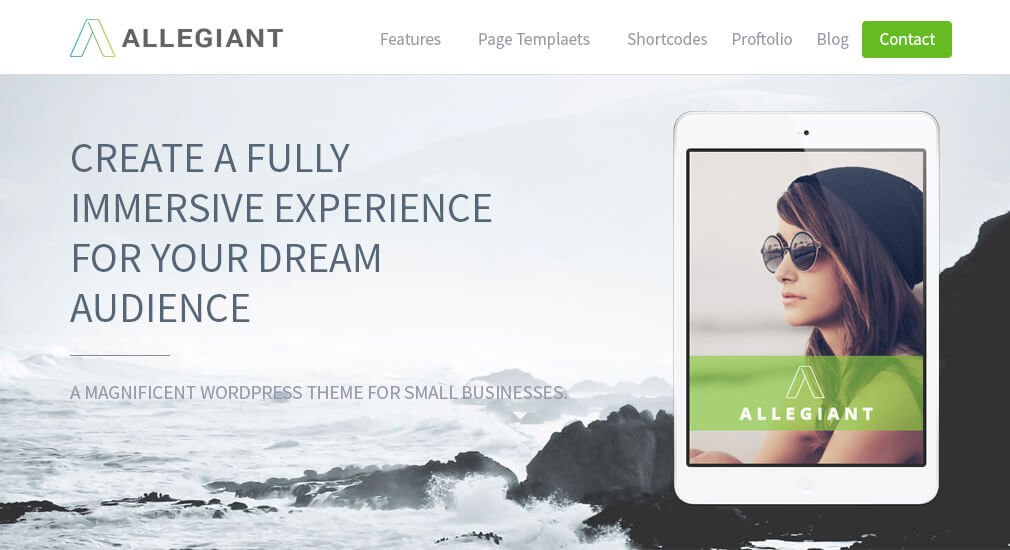 Bold Typography, Modern Layouts, Extensive Customization Options – Allegiant has it all!
If you are searching for an impressive WordPress theme for your SME website, Allegiant is definitely the right choice. This theme is visually striking and is multipurpose, of course. But its one-page layout is excellent for businesses.
Hey You! Have you checked out the list? These were the top 10 Responsive WordPress themes suggestions for bloggers, marketers, publishers, and businesses. Which one is your favorite responsive WordPress theme and why? Share it with us in the comments section below!