Some might think that success came quickly for Vikas Singhal, founder of InstaWP. However, his journey can be summarized in the words of famed Roman philosopher Seneca: "Luck is where preparation meets opportunity."
This week, we are happy to have him as our guest on this interview series, especially a few weeks before WordCamp Europe where InstaWP is one of the sponsors. You can meet their team at the event. More on this at the end of this interview!
Devrims: Can you tell us a little about your background and how you became interested in WordPress?
Vikas Singhal: Sure. First of all, thanks for having me here.
Coming back to the question, I was always interested in computers. After completing my engineering in Computer Science, I mostly worked with companies related to infrastructure, servers, network devices, operating systems, web technologies, and security. It was only in 2017 that I discovered that WordPress has a great set of plugins, eCommerce add-ons, and other wonderful stuff.
It all started when I built an ecommerce shop for my brother using Prestashop. In the process, I learned how to build add-ons. After creating a few add-ons for his shop, I ended up posting them on forums. Not only they became popular but started generating some extra income for me. I was happy, surprised, and encouraged. So, I looked for more similar opportunities and found WordPress. There has been no looking back since then.
Devrims: Your website ExpressTech lists several services you offer, including Product Development, Custom Web Development, Digital Marketing, and SEO. How do you think these services impact in building a business today?
Vikas Singhal: ExpressTech is my first venture. I started it by acquiring a security plugin back in 2017-18. Till now, we have acquired over 10 plugins and themes. We are a team of 30 people who develop, customize, and improve WordPress products.
I believe that having a robust product and great search engine visibility makes the biggest impact in today's competitive world. Our Product Development, Custom Web Development, Digital Marketing, and SEO services are here to help businesses do better in terms of user experience, functionality, sales, and reach over the Internet. So, our skills are definitely helping businesses transform their operations, brand, and sales.
Devrims: WordPress 6.2 is here! What's your favourite feature of this new version? Any wishes for WordPress 6.3?
Vikas Singhal: I personally have a lot of interest in blocks and block themes. Version 6.2 marked the end of Gutenberg Phase 2 customization, and it has a lot of interesting updates related to blocks. So, those features can be called my favourites at present.
For WordPress 6.3, I think the WordPress environment's installation and configuration method can be simplified for beginners. Oh, I think that's why Automattic has seed-funded our project. So, I will leave WP v6.3 to them. Anyway, no previous WordPress update has disappointed me.
Devrims: How did the idea of InstaWP come to you?
Vikas Singhal: I always wanted to simplify WordPress onboarding. I think that we, developers, have to spend a lot of time when it comes to setting up a test environment. People at development agencies are even more troubled by this drawback, considering that they do it all the time.
I tried figuring out how we could solve that. I even failed at it. Later, I came up with the initial version of InstaWP, presented it to a closed group, and it was instantly a hit. We have been working hard on improving the product since then.
Devrims: It's been around more than a year since the launch of InstaWP, how are things going and how do you see the future of this product?
Vikas Singhal: Better than planned, I would say. InstaWP got funding from Automattic. Currently, 15,000+ WordPress professionals are using our product and over 2,000 websites are created on it every single day. Future seems bright too. We are improving our product, while working on building a platform where people can build WP sites effectively and easily.
Devrims: When it comes to Managed WordPress Hosting, what are the three key decision-making factors on which you will pick one?
Vikas Singhal: If you are asking about managed WordPress hosting for a live site, my answer would be infrastructure, uptime, and support. For development agencies and developers, I will choose the elimination of hosting chores, support, and scalability. Devrims is among my favourites in this regard.
Devrims: Can we have a peak of your office?
Vikas Singhal: Sure. It's my office setup. All of our team members work remotely currently.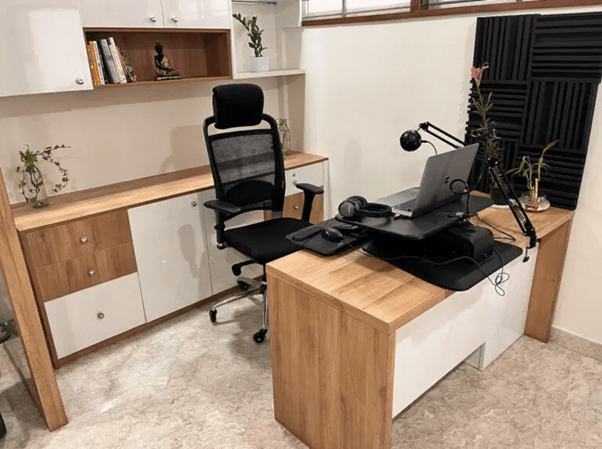 Devrims: What advice would you give to someone starting out in your industry, based on your own experiences and insights?
Vikas Singhal: I would say one should never work on the basis of assumptions. It's always great to get to the depth of the subject. So, research well around the target market before building a product or acquiring one. Another important thing is that code quality and product security should never be considered secondary – even if you are just starting out.
Devrims: Tell us about some of the activities that you do in your free time?
Vikas Singhal: When at home, I prefer spending time with my kids and playing with them. Tabla practice is my other favourite way to refresh myself. I also like going out to have coffee and conversation with friends.
Devrims: Lastly, name two individuals from the industry who inspire you the most with their work.
Vikas Singhal: Matt Mullenweg (Automattic) and Lesley Sim (Newsletter Glue), undoubtedly. Both solved big problems, and both of them knew how to take their products forward. I am really inspired by their dedicated and uncluttered thinking process when it comes to solving a community's problem and using the community/networking for the product's growth.
Devrims: Let's end with a round of Rapid Fire:
Vikas Singhal: 
| | |
| --- | --- |
| Coffee or Tea? | Coffee! |
| Windows or Mac? | Mac |
| Games or Movies? | Games |
We thank Basilis Kanonidis for recommending Vikas for this interview. If visa issues clear up, then you can see Vikas and the InstaWP team at this year's WordCamp Europe at Author Booth 20, Megaron Athens International Conference Centre in Athens, Greece from June 8 to 10, 2023.