The latest version of the world's most popular content management system is here.
WordPress 6.4 carries the name "Shirley" as it honors American jazz icon, Shirley Horn. Just like her music that transcended boundaries, this version of WordPress was finished by an underrepresented gender release squad. This is inline with WordPress' aim of democratizing publishing.
it has many exciting new features and improvements.
The newest version builds on the collaborative spirit of WordPress 6.3. It comes with significant speed and performance upgrades, ensuring your site loads faster than ever. Also, the block editor now has drag-and-drop widgets, making it easier to customize your layouts.
WordPress 6.4 introduces powerful APIs and streamlined workflows to help developers build sites faster and more efficiently.
I created a testing environment to test WordPress 6.4. As this version is under development, all features shown in this blog post may not be present in the final release which is scheduled to be out by November 7.
Now, let's look at the new and updated features of WordPress 6.4:
A Little Update on PHP Compatibility
The primary PHP choice for WordPress 6.4 is PHP 8.1 or 8.2. While there are not too many issues, it's always a smart idea to build and maintain your WordPress stack on the latest recommendations. 
This way, you can ensure that website stays nearly 99.99% secure. Having said that, should there be a need, WordPress 6.4 works fine with all PHP 7.0 to 8.0.
You can take chances with PHP 8.3, but it's under "beta support".
New Flexible Default Theme Twenty Twenty-Four
The newest version builds on the collaborative spirit of WordPress 6.3. It comes with significant speed and performance upgrades, ensuring your site loads faster than ever. Also, the block editor now has drag-and-drop widgets, making it easier to customize your layouts.
WordPress 6.4 introduces powerful APIs and streamlined workflows to help developers build sites faster and more efficiently.
I created a testing environment to test WordPress 6.4 using Managed WordPress Hosting on Devrims. At the time of publication, the platform does not have WordPress 6.4 as an option. It will be available by the end of this month.
However, you can always a hosting stack with WordPress 6.3 and update it to WordPress 6.4. Only update your core version (6.3 > 6.4) while building a new project. Never update the core version of your production (live) websites.
Now, let's look at the new and updated features of WordPress 6.4:
New Flexible Default Theme Twenty Twenty-Four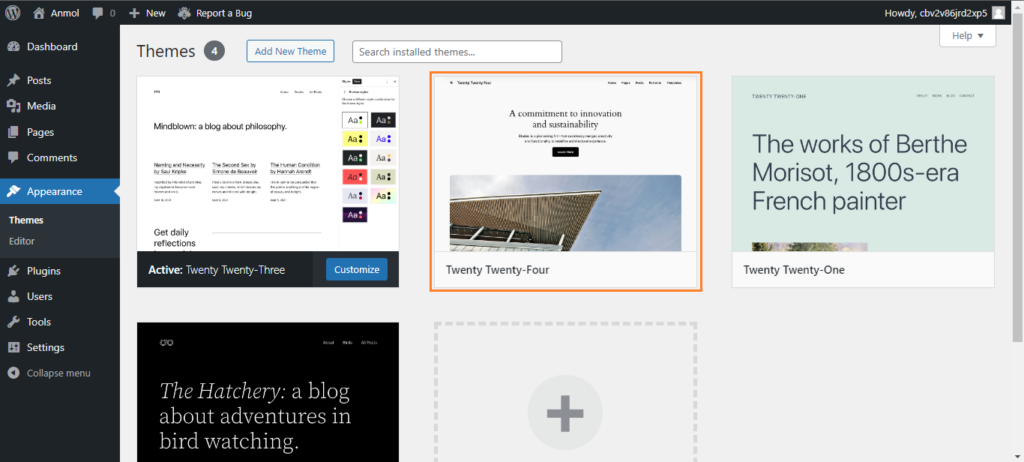 WordPress's latest and greatest version brings a new flexible default theme, Twenty Twenty-Four, that helps you easily craft beautiful, versatile websites. This theme brings the complete functionality of the block editor together with a vast gallery of templates and patterns. Choose from a wide selection of pre-made sections and layouts, and then make it yours by customizing colors, fonts, spacing, and more to reflect your brand's aesthetics. Build pages using columns, callouts, galleries, and other blocks with just a few clicks.
This theme's flexible design adapts smoothly across screen sizes for mobile-friendly sites. You can build landing pages, portfolios, online stores, blogs, magazines, and more efficiently. Built-in header and footer templates provide consistency across all pages. 
You can create beautiful online web apps without little to no coding, thanks to Twenty Twenty-Four.
The latest version of WordPress makes it easier to organize and structure your content. It has introduced a new feature to customize the names of your group blocks that help you differentiate sections of your posts and pages. Select a Group and click on the three dots, and you will see a new "Rename" option. Click on that and enter your preferred name, and it will appear in place of "Group" in the editor sidebar.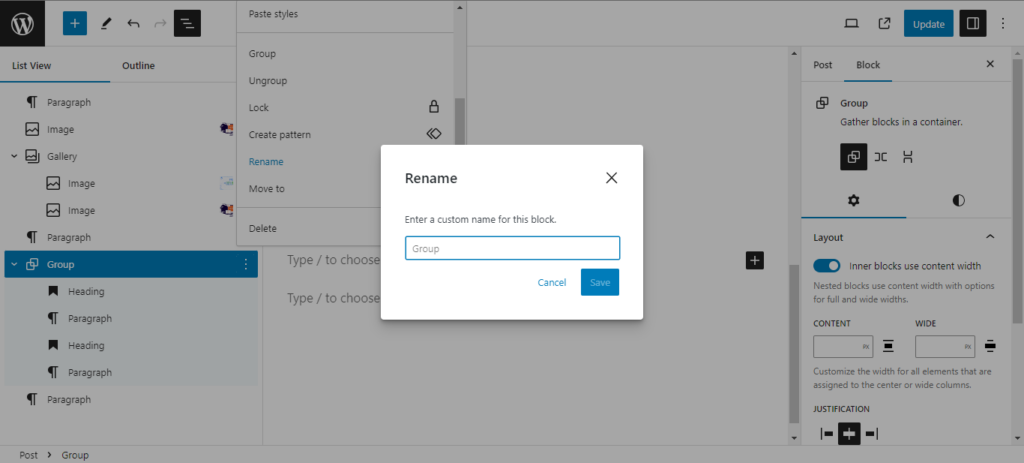 Your editing workflow will get faster and smoother with this feature to better organize your paragraphs, images, videos, and more into labeled groups. It will simplify finding, updating, and rearranging specific sections.
The new lightbox feature may create a captivating visual experience by expanding images into a popup. When visitors click on an image, it seamlessly expands to fill their screen while dimming the background. Controls allow viewers to easily zoom in or out and navigate between images in the lightbox.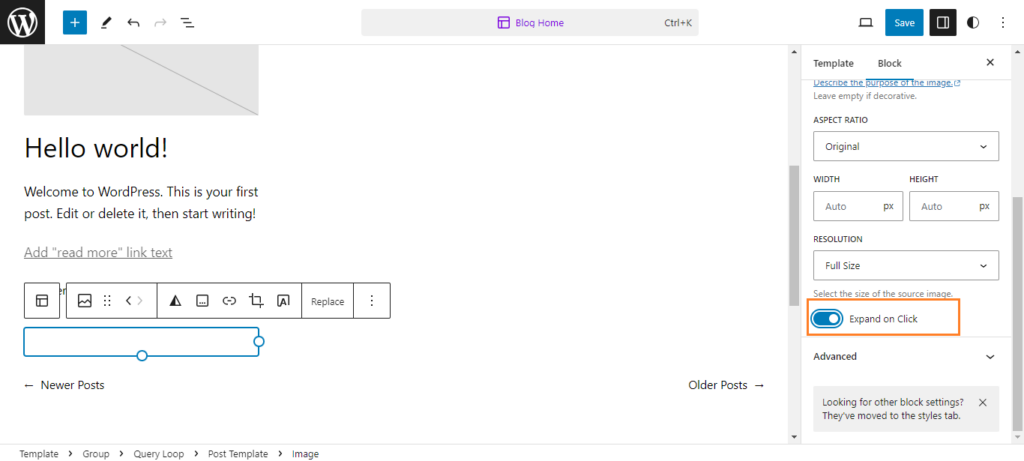 You can enable this functionality in WordPress 6.4 by visiting Media Settings. Check the "Enable lightbox for image galleries" option to activate galleries or "Enable lightbox for all images" for site-wide activation. Adjust lightbox style, transitions, and captions to customize the viewer encounter.
New Blocks and Block Hooks
WordPress 6.4 introduces three new blocks:
Table of Contents Block – Faster Content Creation
Time to Read Block – Efficient Content Creation
Scrolling Marquee Block – Attention Grabbing or Announcements
Except for these new blocks, WordPress 6.4 empowers developers with Block Hooks. This feature lets plugins register custom blocks that automatically perform the actions and suggest within the proper context. Without constantly searching, you can add things like login/logout links or comment blocks.
You will get an enhanced editing experience in WordPress 6.4 to maximize your writing potential. This update adds helpful text formatting tools that speed up publishing without interrupting your thoughts. Quickly bold, italicize, or underline text without leaving the paragraph. Select a word if you need to link it and create the link inline.
Its distraction-free full-screen mode provides the focus for immersive writing sessions. WordPress reduces the hard work of writing, whether drafting blog posts or lengthy reports. Improvements to the editor, text tools, and block library help your big ideas shine. Spend less time on technical tasks and more time doing what you love – creating compelling content. WordPress 6.4 brings your writing vision to the way with less effort, emphasizing simplifying text creation.
Images Previews in List View
Image Previews in List View is another new feature introduced in WordPress 6.4. You will see thumbnail previews of any images added using the Gallery and Image blocks when you switch to the List View in the editor.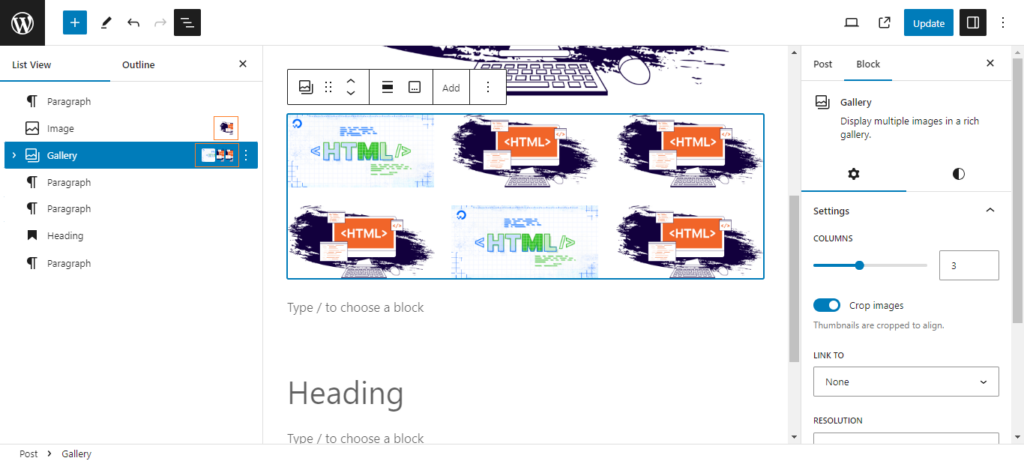 This visual overview makes it simple to identify where your photos, graphics, and other media are placed in your content. You can scroll through the List View and find which parts of your page or post contain the images you need to find, edit, or rearrange.
Quickly review and update images and create visually compelling content using this outstanding feature to smoothen your workflow.
Pattern Adjustments (Categorize and Filter)
WordPress 6.4 has expanded pattern options for enhanced site design flexibility. Patterns let you reuse elements like headers, footers, testimonials, and more to make it easy to build pages. You will get a streamlined pattern interface across site editing screens like the Site Editor.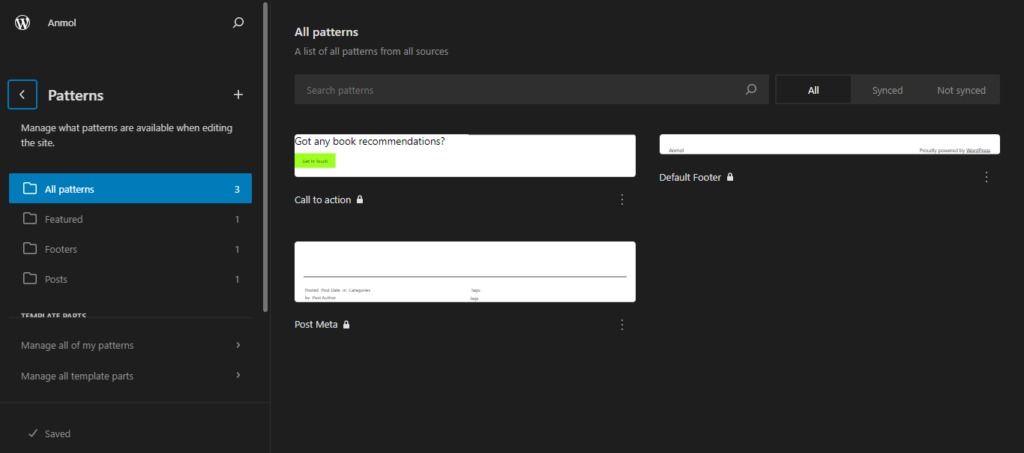 You can categorize patterns into groups like "Hero Sections," "Callouts," or "Navigation" to smooth your workflow. These patterns will help you retrieve what you need in seconds by selecting from your custom categories. This process will save a lot of your time and speed up your workflow. Create a pattern workflow that fits your creative process for smoother site building and design.
Share Patterns Across Sites
WordPress 6.4 has introduced a new functionality to share patterns across sites. Creating effective site-wide design patterns takes time and effort, but with this new feature, you can reuse your custom patterns and save much of your time.
You will find options to import and export the customized patterns inside the Patterns section of Site Editor. You can export the crafted patterns as a JSON file and import the same file to another WordPress site where you want to use this pattern.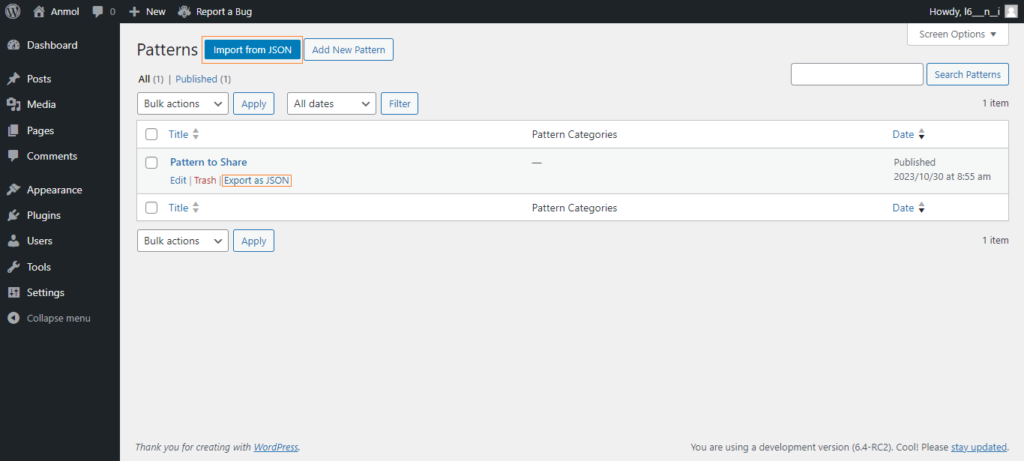 This makes it simple to sync functional patterns between different sites you manage. You can share anything from headers and footers to testimonial sections, contact forms, action blocks, and more.
Redesigned Command Palette
Command Palette was introduced in the previous version of WordPress, but in this latest version, it is redesigned with improved features and visibility. Along with minor design tweaks for better visibility, the command palette adds new keyboard shortcuts for operating blocks. You can duplicate, transform, or delete blocks from the popup without using the mouse.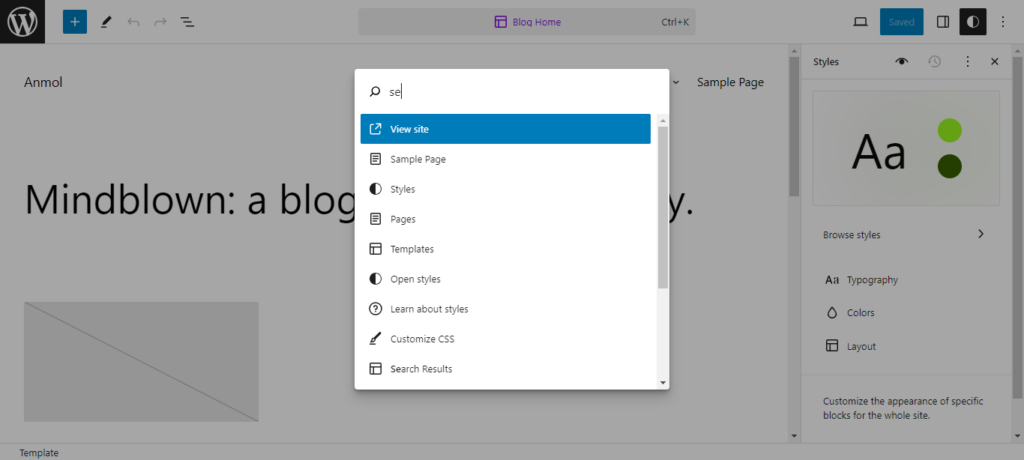 Combine commands with multi-select to work faster and more efficiently. Command Palette expansion saves a lot of time. The goal is an intuitive, responsive interface that lets you focus on creating, not clicking. The Command Palette in WordPress 6.4 brings site design into the keyboard-driven future. Rapidly organize pages and content with just keystrokes. It's an exciting sight of the highly-responsive workflow that lies ahead.
Unlock your inner designer with the enhanced design tools introduced in WordPress 6.4. This release rectifies the entire suite of design functions, empowering you to customize beautiful to advance site engagement. Create a smoother interface for fine-tuning colors, typography, layouts, and more with the editor's help. Adjust global styles in clicks, save color palettes, and manage fonts through the new library.
Transform the layout with robust patterns and use column blocks for advanced inline arrangements. WordPress 6.4 brings smoothness to every design task, whether you are a developer tweaking templates or a site owner adding features. Take your creativity to the next level through improved customization tools and settings.
WordPress 6.4 removes hurdles between you and your vision, focusing on a more intuitive unified design experience. The enhanced toolkit provides the flexibility and control to make sites that delight and inspire.
WordPress 6.4 introduces various accessibility upgrades to experience sites with greater ease. This release contains more than 60 improvements that help users of all types navigate and engage with the sites. The List View received significant enhancements for screen reader compatibility, while the Navigation block now supports labels for better context. Admin dashboard updates also boost accessibility in the backend.
In this version, WordPress brings usability gains for everyone, emphasizing inclusive design. Site visitors can browse and interact confidently through compliance with the latest web standards. This release marks a significant leap forward in creating an accessible web for all.
WordPress 6.4 introduces various performance upgrades for fast loading and boosting website speed. It has introduced more than 100 optimizations that make this version the fastest WordPress yet, especially for themes. It provides a more seamless user experience with improved template loading.
WordPress 6.4 gives you a competitive edge, with site speed being a vital ranking factor. It helps you to delight visitors and search engines as pages load at a faster speed. The ambitious optimizations in 6.4 shoot up your site closer to real-time interactions while speed remains an ongoing focus. Use the benefits for engagement and conversions. WordPress 6.4 delivers next-level performance, which means maximizing results.
Consider using a caching plugin like LSCache to take your WordPress site's speed to the next level. Caching plugins like LSCache store static copies of web pages and serve those quickly to visitors instead of rendering the page dynamically on each request. This can dramatically improve page load times. Using LSCache and the performance updates in WordPress 6.4 together will give your site lighting fast speeds that will keep visitors happy and engaged. 
It is recommended to host your website on a high performance cloud hosting platform to fully leverage the performance and speed improvements in WordPress 6.4. Fast performance means better conversions and search engine rankings, so leverage the speed of WordPress 6.4 and enhance it even more with an outstanding caching plugin and managed cloud hosting.
WordPress 6.4 "Shirley" introduces an exciting step forward with its emphasis on process workflows. Site owners gain more intuitive controls to realize their vision, from the customizable Twenty Twenty-Four theme to the intuitive new Font Library. Developers can experience expanded Gutenberg functionalities and hooks.
Also, the extensive accessibility and performance updates make for a user-friendly experience. The innovations provide insights into the future with personalized, fast-speed sites. WordPress empowers users to even greater heights by introducing advanced tools and features.