In times of COVID-19, the world of eCommerce has gained immense popularity. In fact, according to UN trade & development experts, Global eCommerce jumps to $26.7 trillion in 2020! Now that is a big number. But that is not the only thing. Mobile commerce alone makes up 72.9% of the eCommerce market share.
This means two things:
You have to create an eCommerce store and get going.
You need to look for the best "responsive" platforms to build your store.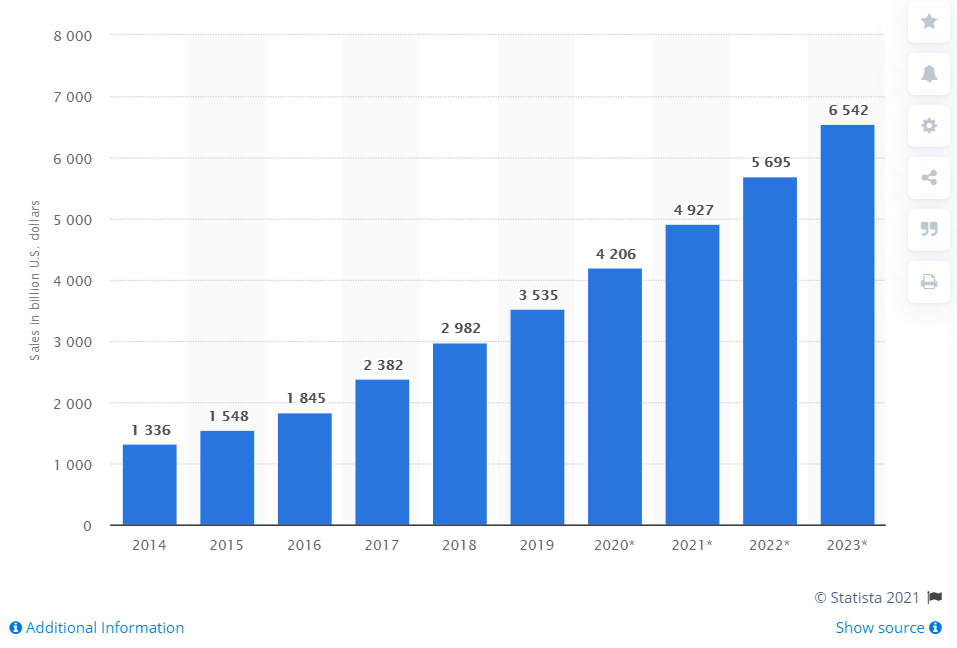 So when we talk about responsive eCommerce platforms, the two key players of this game come to mind i.e: Woocommerce and Shopify. So if you are interested in starting your own online store, keep reading.
Overview: WooCommerce vs Shopify
Before diving into the deeper conversation regarding WooCommerce and Shopify, let me clarify the singular most important fact; 
WooCommerce and Shopify are two of the most popular eCommerce platforms in the world. Both platforms have their features and merits, making it a tough decision, mostly for something as serious as an eCommerce store which eventually will become your most crucial digital asset if things pan out accordingly.
Well, let's see what are the differences: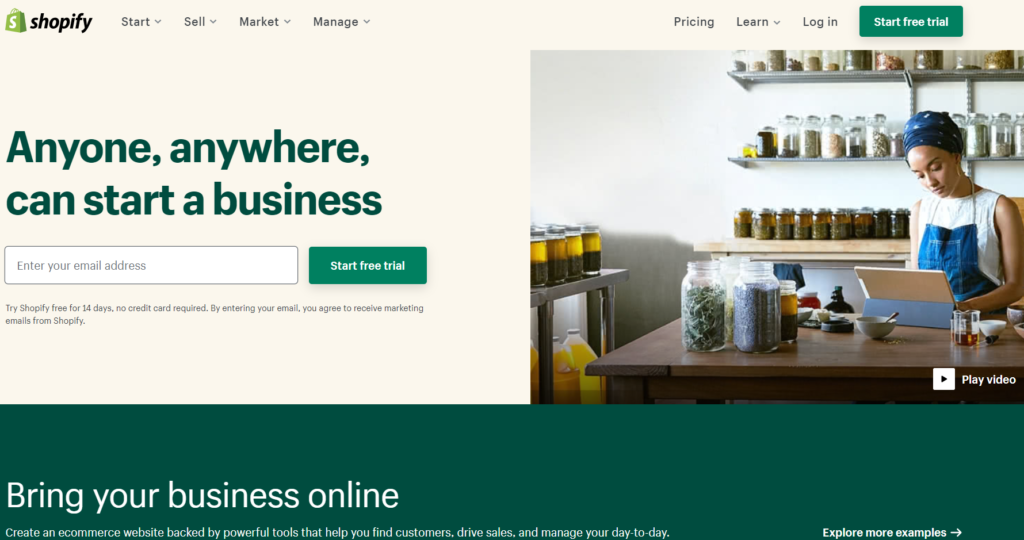 Shopify is an all-in-one powerful, flexible, and robust eCommerce platform that allows you to create an online store.
If I were to say that Shopify is a platform that can literally turn any noob's dream of starting an ecommerce store into reality, it wouldn't be a wrong statement as you don't need to be a high-end developer or a tech-savvy person to understand and execute things when it comes to Shopify; YES, IT'S THAT SIMPLE AND EASY!
In Shopify, you can manage your inventory, set up payment methods, and perform various functions from a single platform without any technical hassle.
The system is straightforward; you don't even need to manage web hosting, cache, security, etc.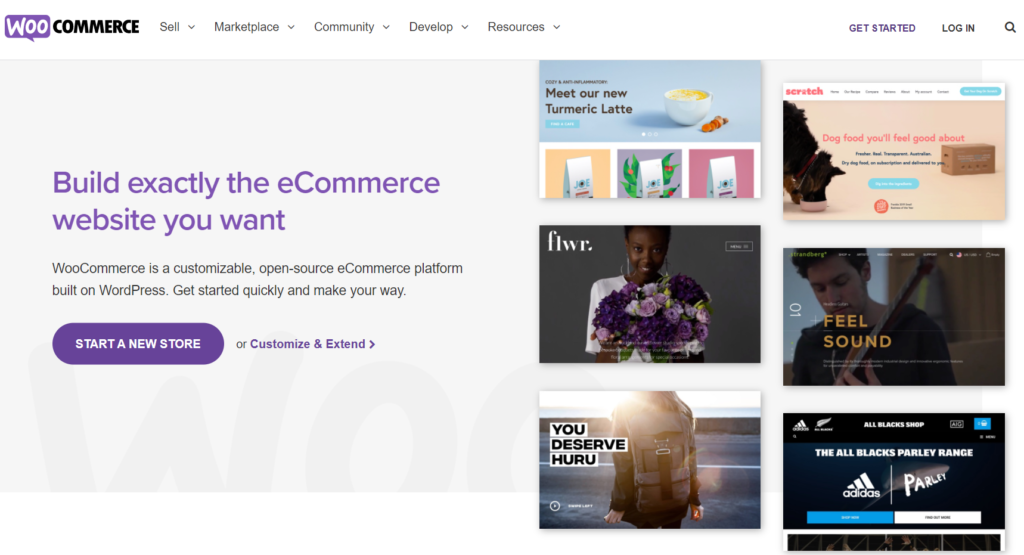 WooCommerce is by far one of the leading eCommerce platforms around the world. It is easy to use and flexible, yet not as simple as Shopify.
WooCommerce is free and has thousands of themes and plugins available that you can use and create a successful and modern eCommerce store.
You need to invest in your hosting platform that will start at $10/mo.
Ok, that is great. But what is the future of the eCommerce market like?
eCommerce Market Share 2021
According to BuiltWith, eCommerce usage distribution is in the top 1 Million Sites. As you can see WooCommerce is the number one choice at 30%, and the second is Shopify at 18%.
See the screenshot below. (*the stats mentioned are subject to change according to global technological changes)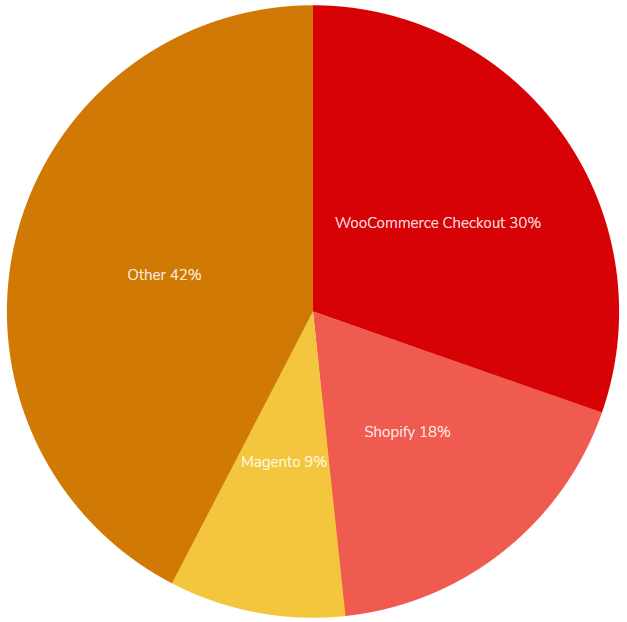 According to BuiltWith, here are the top 10 eCommerce platforms.
| | | | |
| --- | --- | --- | --- |
| Rank | Technology | Websites | % |
| 1 | WooCommerce | 31,741 | 3.47 |
| 2 | Shopify | 20,535 | 2.05 |
| 3 | Magento | 10,649 | 1.06 |
| 4 | PrestaShop | 2,973 | 0.3 |
| 5 | OpenCart | 2,703 | 0.27 |
| 6 | Shopify Plus | 2,538 | 0.25 |
| 7 | Squarespace Add to Cart | 2,169 | 0.22 |
| 8 | Magento Enterprise | 1,836 | 0.18 |
| 9 | BigCommerce | 1,830 | 0.18 |
| 10 | Salesforce Commerce Cloud | 1,668 | 0.17 |
What to Look for in Your eCommerce Platform?
Before choosing a platform to work with, you need to consider some key factors. These include:
Budget: Your budget is very significant; most of the users go with a low budget and will not get advanced features. You should at least have an average investment between $10 to $50 a month for both WooCommece & Shopify Subscriptions, Plugins investment, mentainantence etc.
Ease of use: Before choosing any platform, check out their reviews, stats, etc. So it will be easy to choose between Shopify and WooCommerce and your specific requirements and availability of technical resources.
Payment Methods: Make sure the platform supports leading payment methods such as PayPal, Stripe, etc
Integrations: Make sure the platform has third-party service and plenty of tools can be integrated easily.
Scalability: The platform should be able to scale as your business grows.
These are some of the basic requirements that all the store owners must consider for their eCommerce blog, eCommerce store, dropshipping store, affiliate website or any other business.
WooCommerce vs Shopify: Comparison
We have compared both WooCommerce and Shopify. After seeing this table, you will clearly understand which is a better platform for you.
Points of Difference (PoD)
WooCommerce
Shopify
Number of Users
4,414,537
3,615,925
Number of Themes
Unlimited
Limited
Number of Plugins
Unlimited
Limited
Features
User Friendly
Yes
Yes
Mobile Friendly
Yes
Yes
Newsletter
Yes, with a plugin
Yes
SEO
Yes
Yes
HTML Compatibility
Yes
Yes
Budget-Friendly
Yes
Yes
Scalability
Yes
Yes
Storage Space
It depends on server size
Unlimited
Shipping Methods
Yes
Yes
Marketing Elements
Yes
Yes
Multilingual Support
Yes
Yes
Help and Support
Community, Phone, Chat,
Email, Influencers
Phone, Chat, Email,
Documentation, Forum
eCommerce
Inventory Management
Yes
Yes
Marketplaces Connection
Yes
Yes
Catalog Size
Yes
Yes
Offline Payments Tracking
Yes
Yes
Payment Gateways
Yes
Yes
CSV Catalog Import
Yes
Yes
Extensions
Unlimited
Limited
Prices
Trial Version
Free
14 Days Trial
Sales Commissions
No
From 0.5% to 2%
Paid Offers (monthly price)
It's a free plugin.
You need to buy the hosting plan
Shopify Lite: $9/mo
Basic Shopify: $29/mo
Shopify: $79/mo
Advanced Shopify: $299/mo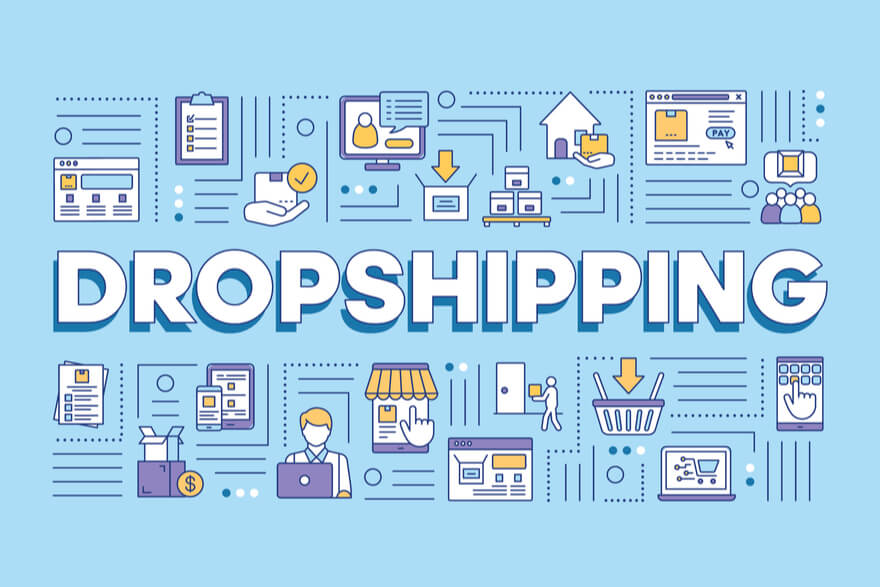 Dropshipping is profitable even in 2021. You know why? Because online sales are increasing day by day. Dropshipping is in the middle of the customer and vendor. While using dropshipping, you can run a full-fledged online store without holding any inventory.
To run a Dropshipping store, you need to consider an eCommerce platform. However, there are two major eCommerce platforms around the world; WooCommerce and Shopify.
Let's see which is most beneficial for dropshipping stores.
Dropshipping with WooCommerce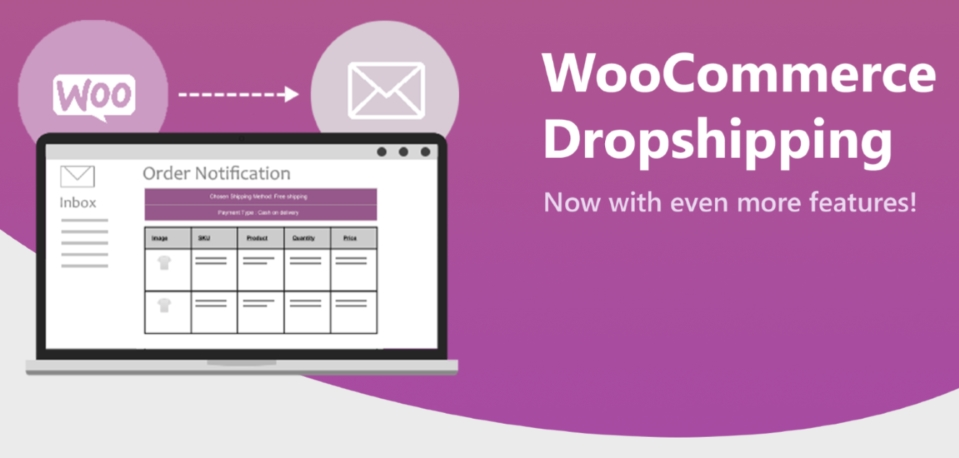 WooCommerce is one of the most significant store owners' choices because they need to buy a plugin and integrate easily.
Here are some excellent third-party WooCommerce dropshipping extensions:
AliDropship
WooDropship
DropshipMe
YouDroop
WP Amazon Shop
Spocket
Dropshipping with Shopify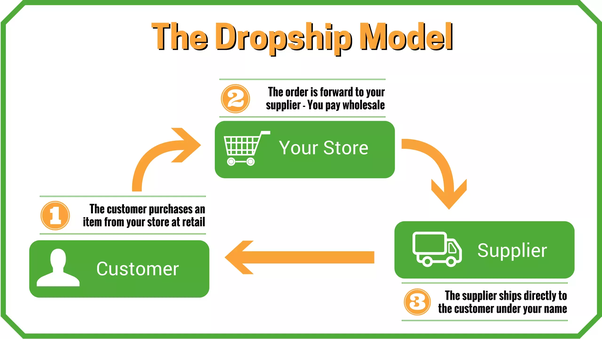 Shopify comes with some great extensions that can fulfill your dropshipping store requirements.
Here are some of the best Shopify dropshipping addons:
Shopify also integrates with third-party dropshipping marketplace like AliExpress, Oberlo, Printify, and more.
Spocket
Ali Orders AliExpress Dropship
MINT ‑ Unlimited Dropshipping
CJDropshipping
WooCommerce VS Shopify: Price Comparison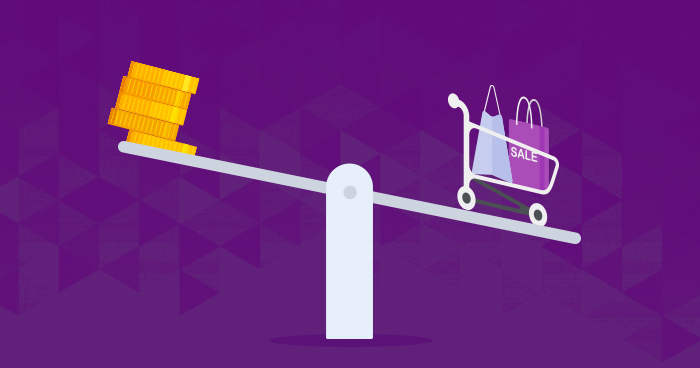 Now let's talk about money.
Here we will discuss the pricing of WooCommerce and Shopify.
WooCommerce is free and easy to use. If you choose WooCommerce for your online store, you will need to invest in hosting and marketing extensions.
The price starts with ZERO, but it will cost you $10 minimum a month when you purchase the hosting plan.
At Devrims, we offer you a great hosting plan with many features such as free SSL, free migration, automated backups, unlimited applications, unlimited servers, free cache service, and a lot of features that you can think of.
When it comes to Shopify, you don't need to buy hosting separately because Shopify is self-hosted. So if you choose Shopify, you will get everything (themes, plugins, extensions, etc.) together. But bear in mind that many and most of the plugins in Shopify are PAID PLUGINS.
However, Shopify is a little bit expensive and offers limited features. That's why most of the store owners prefer WooCommerce instead of Shopify.
Basic Shopify: $29 per /mo
Shopify: $79 per /mo
Advanced Shopify: $299 per /mo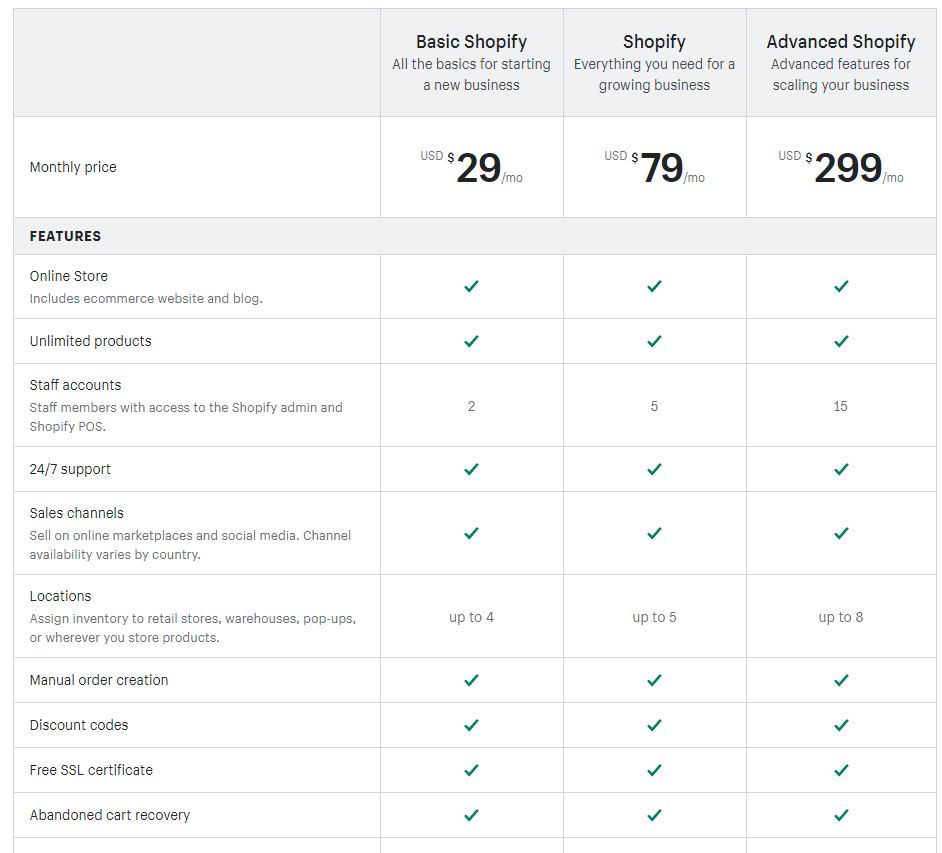 Payment Methods: Shopify vs WooCommerce
Although there are many payment gateways available on the market, some payments are suitable for you but not for your client. That's why it is essential to choose payment methods that will be good for your client.
Let's see what payment methods Shopify and WooCommerce provide.
Payment Options in Shopify
The great thing about Shopify is that it has its own payment solution called Shopify Payments powered by Stripe. So you don't need to go with another payment option.
There are many other third-party payment options that Shopify allows as well. These include Paypal, 2 Checkout, Authorized.net, etc.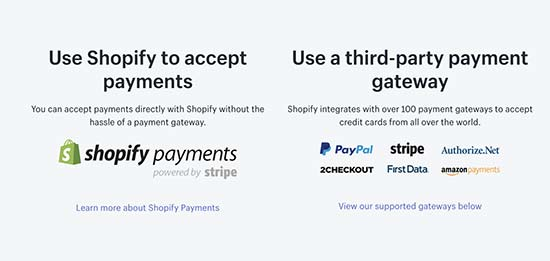 Payment Options in WooCommerce
By default, WooCommerce offers PayPal and Stripe, so you don't need to go somewhere else if you are using any of these. The option is available when you set up your WooCommerce store.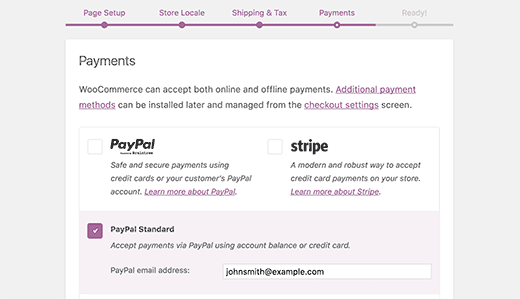 Apart from this, WooCommerce allows integrating other payment options such as Skrill, two checkouts, authorized.net, and more that you can integrate with your website.
Add-ons: Shopify vs WooCommerce
Many payment add ons are available on the market. Let's see what add ons Shopify and WooCommerce provide.
Shopify comes with a robust App Store and API to buy third-party addons for your Shopify eCommerce store.
Moreover, Shopify has over a hundred apps that cover every feature you'll want to add to your store.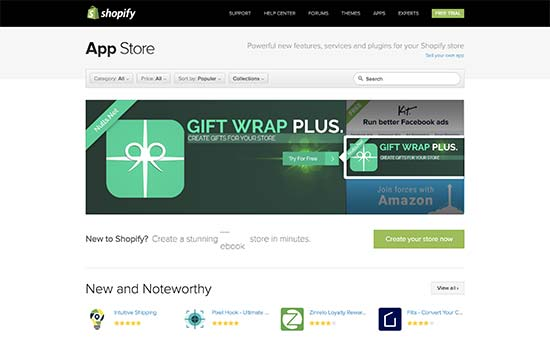 As compared to Shopify, WooCommerce has a larger market just because they have over 55,000 free WordPress plugins.
Moreover, WooCommerce provides thousands of free and premium extensions that you can use and utilize in your store according to your requirements and your client's requirements.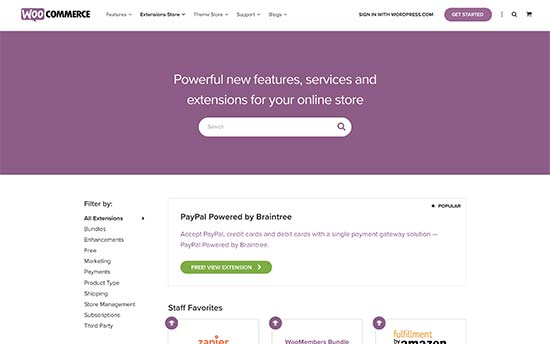 Support Options for WooCommerce vs Shopify
Well, both WooCommerce and Shopify are very easy to use and easy to integrate. However, sometimes support is necessary for various reasons.
Let's see what kind of support WooCommerce and Shopify provide.
As already mentioned, Shopify is self-hosted; everything you can find out on the Shopify platform means you are wholly reliable on Shopify.
Apart from that, Shopify provides 24/7 support via live chat, phone, email, and Twitter.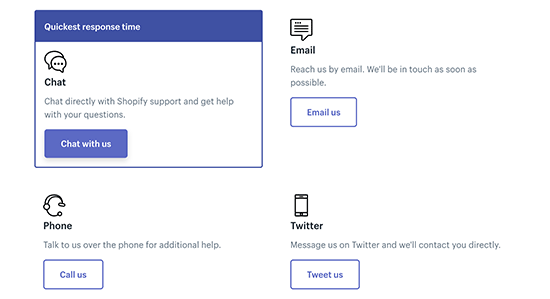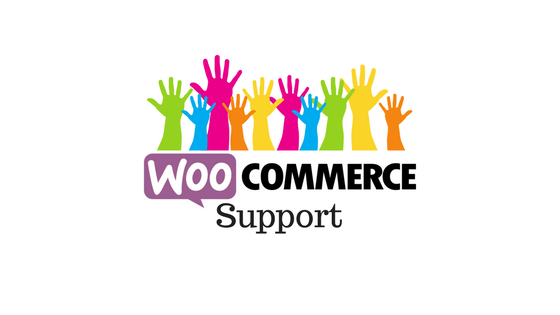 WooCommerce is the first choice for online store owners just because they have a large community including Facebook, Twitter, Quora, etc.
However, WooCommerce is not a self-hosted platform, which means your hosting provider is responsible for providing support for issues with your server.
For your WooCommerce extensions and themes, the respective developers and designers are responsible for answering support questions.
WooCommerce vs Shopify: Which is the Best eCommerce Platform?
Shopify and WooCommerce are both powerful platforms to start your eCommerce store. We've made it to the end of the Shopify vs WooCommerce brawl, and now it's time to determine which platform is best for you.
Both WooCommerce and Shopify are great platforms in their own right,  although both have their own set of pros and cons. As long as you can go with one of these that will suit your needs the best, you'll have made the right decision.
If you want something that's completely easy-to-use and hassle-free with infinite scalability, then WooCommerce is the better platform for you.
Whether you are a brand planning to launch an ecommerce store confused whether to migrate shopify to woocommerce, or simply a curious tech geek, we hope that this article clears all your queries. We have compiled pretty much all the pros and cons of Shopify vs WooCommerce. If you have any comments regarding this tutorial, please let us know via the comment section below.